Microsoft has also expressed interest in providing augmented reality equipment for the battlefield
Magic Leap Inc. is pushing to land a contract with the U.S. Army to build augmented-reality devices for soldiers to use on combat missions, according to government documents and interviews with people familiar with the process. The contract, which could eventually lead to the military purchasing over 100,000 headsets as part of a program whose total cost could exceed $500 million, is intended to "increase lethality by enhancing the ability to detect, decide and engage before the enemy," according to an Army description of the program. A large government contract could alter the course of the highest-profile startup working on augmented reality, at a time when prospects to produce a consumer device remain uncertain.
Building tools to make soldiers more deadly is a far cry from the nascent consumer market for augmented reality. But the army's program has also drawn interest from Microsoft Corp., whose HoloLens is Magic Leap's main rival.  The commercial-grade versions of both devices still face significant technological hurdles, and its not clear the companies can fulfill the army's technical requirements. If recent history is any guide, a large military contract is also sure to be controversial within the companies.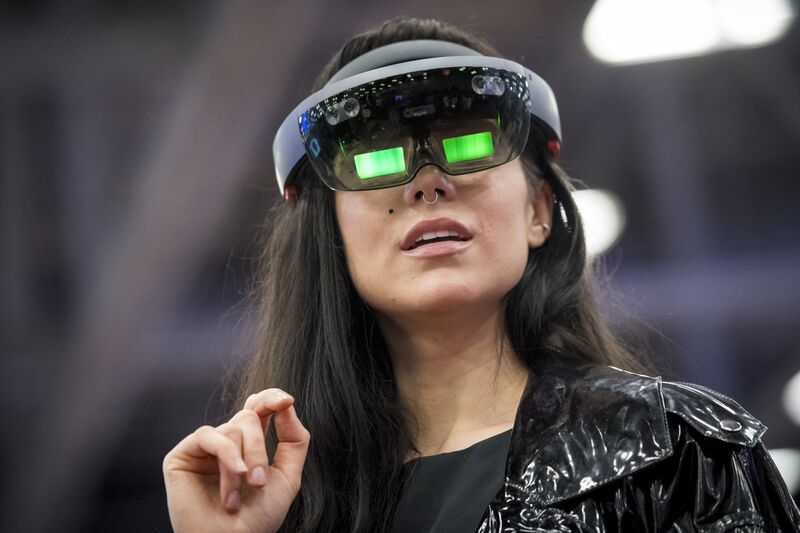 Magic Leap declined to comment. Microsoft confirmed it had attended a meeting in which officials from the Army met with potential bidders. The Army's Contracting Command is currently reviewing proposals, said Ed Worley, a spokesman.
The Army's program is currently known as HUD 3.0 (for "heads up device") or the Integrated Visual Augmentation System, and has been percolating through the armed forces for years in various forms. It entails the construction of a physical headset, designed to overlay digital images on the physical world, as well as a software platform that could be used both in training and live combat. The details of the program are laid out in a series of documents on a publicly available website for military contractors.
During training, soldiers would wear the headsets to take part in platoon assaults, and respond to simulated ambushes and chemical attacks. This practice warfare would be recorded from all angles, and could be analyzed afterward much like an NFL football team watches game tape on Tuesdays. But soldiers would also wear the devices into all types of combat situations, both during the day and at night. At those times, digital images would show soldiers digital maps, or help them aim their weapons. The devices would also be used for communication. "HUD 3.0 will allow the warfighter to 'Train as You Fight,' with identical training/operational weapons and equipment in any terrain," the Army writes in a Statement of Objectives.
In their final form, the Army expects the devices to incorporate night vision and thermal sensing, measure vital signs like breathing and "readiness," monitor for concussions and offer hearing protection. The website lays out plans to award an initial contract this November. Over the first two years of the project, the winning bidder would be expected to deliver 2,500 headsets, and exhibit the capacity for full-scale production.
The competition for the HUD 3.0 program was officially kicked off at a meeting in early August, just days before Magic Leap began selling the first version of its headset to the general public. Army officials gave a presentation showing the history of head-mounted devices for soldiers, starting with the first night vision goggles in the 1970s, according to notes posted online. They then held meetings with 25 companies who were interested in participating in some way. Others in attendance included Microsoft, Booz Allen Hamilton Holding Corp., Lockheed Martin Corp., and Raytheon Co.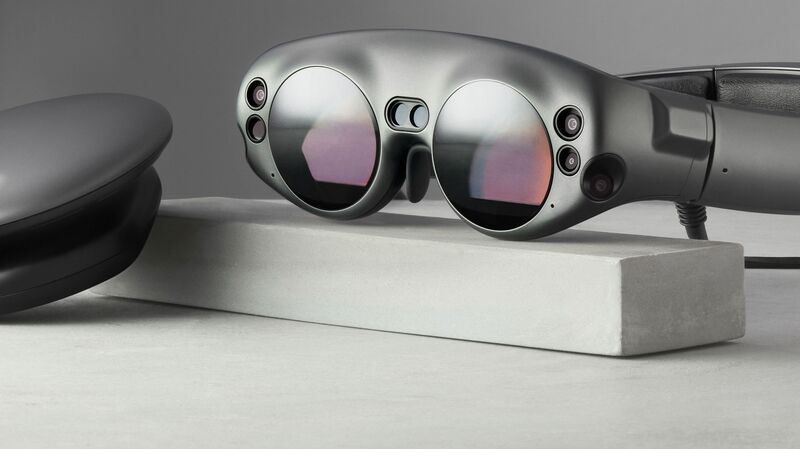 Magic Leap's name doesn't appear on the public list of attendees. However, a company called MLH, with the website mlhorizons.com, was at the meeting. Chosen Realities, a company owned by Magic Leap, in May filed paperwork to do business in Florida as ML Horizons, through a form called "an application for registration of fictitious name." ML Horizons shares an address with Magic Leap, and the people listed as attendees are Magic Leap employees. Chosen Realities, which was quietly acquired by Magic Leap, is a small company with a contract to work on augmented reality with the Army Research Laboratory.
Three people with knowledge of the process say that there's widespread perception that Magic Leap is the favorite. They asked to remain anonymous, to avoid alienating the military or provoking retaliation by the company. "The competition is being conducted fairly, and no particular vendor has been favored over another," Worley, the Army's Contracting Command spokesman, said in an email.
There are several signs that the Army had a particular company in mind when it began accepting bids. In March, Brigadier General Christopher Donahue told BreakingDefense.com, an online newsletter about the defense industry, that the army already had an industry partner to work on augmented reality headsets. "We're not going to comment on the name — but we're already teaming with them to build that prototype fairly quickly," he said, adding that the Army intended to have a final prototype within 18 months. When the Army released its list of requirements for the program, it referred to waveguide optics, the exact technology that Magic Leap has been developing for years. It is using a bidding process set up for the armed services to do business with companies that aren't traditional defense contractors. On Aug. 22, it put out a request for white papers from bidders, giving them until Sept. 7 to respond — an unusually short time for such a complex proposal, according to people familiar with the procurement process.
Magic Leap's emergence as a potential military supplier cuts against the public image it has cultivated. Rony Abovitz, the company's founder and chief executive officer, has generally discussed the main potential of his product as a creative tool for artists and technologists.
But the company has maintained quiet contact with the military for several years, according to a former employee who asked to remain anonymous out of fear of retaliation. This person said that there had been simmering concern about Magic Leap's interactions with the military from at least a handful of employees who felt such work was not what they had signed up to do.  Magic Leap also had meetings scheduled with the Army this January, according to email records reviewed by Bloomberg News.
The technology industry has a long history of cooperation with the military. But government contracts have become increasingly fraught lately. Alphabet Inc. employees protested its participation in Project Maven, a project to develop artificial intelligence for the military, leading the company to say it wouldn't renew the contract. Employees at Alphabet's Google also refused to work on a separate cybersecurity project that would have helped the company win military contracts. Amazon.com Inc. drew criticism for marketing facial recognition services to police departments.
News that Microsoft was selling cloud software that could be used for facial recognition to the U.S. Immigration and Customs Enforcement Agency caused an uproar, and was soon followed by the company calling for new government regulations on that kind of technology. While Microsoft has already gotten some business from both the U.S. Army and the Israeli military using its HoloLens device for training, a significant combat contract would be a step up.
Those who have tried a Magic Leap headset might be puzzled at the Army's interest after reading the technical requirements it is seeking. The device is hardly suitable for the hostile environments to which the Army wants to send it.  The plans the military has laid out entail missions in forests, deserts, and even the arctic. Magic Leap currently tells its commercial customers it is best if they only use their headsets indoors.