Drax Group Plc's Chief Executive Officer Will Gardiner has joined scores of other company bosses in starting to make preparations for the U.K. leaving the European Union without a trade deal.
Drax runs the nation's biggest power plant in Northern England and is dependent on a smooth running supply chain for biomass, which is used for fuel at four of its six generation units. Drax sourced 83 percent of its feedstock from North America, with the remainder coming from the Baltics, Brazil, Portugal and other countries within the European Union.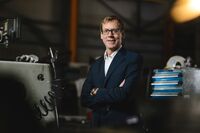 With only six months left to go before the U.K. is due to leave the European Union, talks appear to be at an impasse. That has given markets the jitters and upped the rhetoric on preparations for a no deal on both sides of the negotiating table. Prime Minister Theresa May has put forward a proposal that sees the U.K. sticking close to EU markets while leaving its institutions.
"I'm becoming more worried that if there's a hard Brexit, and there's not a clear situation at ports that there might be some disruption," Gardiner said in an interview at the Bloomberg NEF summit in London. "There should not be for any logical reason, but if the world becomes very illogical I have to start to worry about it."
Drax, which has generated power for more than 40 years at its site in North Yorkshire, is working together with the operator of its port as well as the rail operator to make sure that supplies won't be disrupted when the U.K. leaves the EU next March. The company has its own berths and unloading facilities.
"It shouldn't be a problem but we only have 2 weeks of pellets at the power station, so even if there was a week's disruption, that could be a problem," Gardiner said.
As the U.K. prepares to exit coal completely by the middle of the next decade, Drax is pushing on with plans to convert its final two units to burn natural gas. The power producer will be completely off coal by 2023, Gardiner said.
"The economics of gas currently are more attractive than biomass," he said.
Commenting on the rally in European power prices, which has helped send Drax's shares up 44 percent this year, Gardiner said: