Even the most experienced lithium producers struggle when it comes to ramping up supply, suggesting that many projects being touted by small companies will never be built, according to Banco Santander.
SQM is one of the oldest, largest and most profitable producers of the mineral used in rechargeable batteries for vehicles. On Friday, it revealed a five-week delay in a project to take annual capacity to 70,000 from 48,000 metric tons.
While that's not a big deal for the Chilean giant's earnings prospects, it does highlight the challenges to meeting surging battery demand, and may ease oversupply concerns that have weighed on lithium prices in recent months. Tricky chemistry and unpredictable weather can make extracting lithium from underneath salt flats harder than it might seem.
"From a glass-half-full perspective, it shows that even the best lithium producers find it challenging to add new capacity," Santander analyst Pedro Miguel Pereira wrote in a research note. "Therefore, as in the past, many of the capacity expansion announcements of other players (especially junior mining) will never see the light."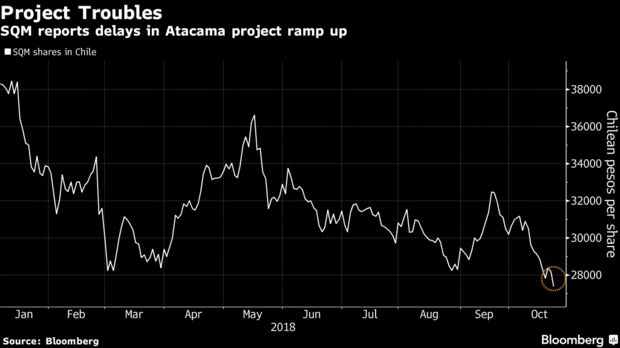 For SQM, known formally as Soc. Quimica & Minera de Chile SA, the delay will mean just an $18 million hit on earnings before items, Pereira wrote. The Santiago-based company updated its lithium-price outlook for the third quarter to flat, compared with a 10 percent decline forecast in August, he noted.
Shares in the local market fell as much as 2.9 percent on Tuesday, to the lowest in more than a year, as Chile's constitutional court delayed a decision key to Tianqi Lithium Corp.'s acquisition of a stake in SQM.