[ad_1]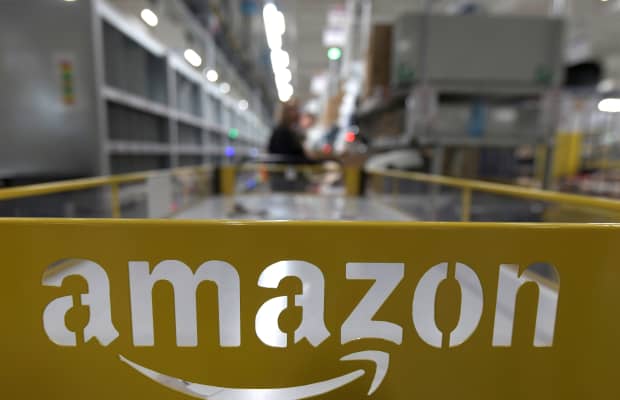 Amazon.com Inc. reported record quarterly sales Thursday and has already reached a record profit total in 2020 amid ramped-up pandemic spending, and it still has another three months to go that include Prime Day as well as the traditional winter holidays.
Amazon
AMZN,
-3.86%
on Thursday afternoon reported third-quarter profit of $6.3 billion, or $12.37 a share, nearly triple the $4.23 a share collected a year ago. The company reported revenue of $96.1 billion, up from $69.98 billion a year ago and the most it has ever collected in a single three-month period, according to FactSet records. Analysts on average expected earnings of $7.41 a share on sales of $92.78 billion.
In total, Amazon has already collected more profit in the first nine months of 2020 than it did in all of 2019, when Amazon had record earnings of $11.59 billion. Amazon has collected nearly that much profit in just the second and third quarters this year, and is pushing $14 billion in net income through three quarters.
Amazon has experienced a surge in usage amid the COVID-19 pandemic, as Americans and others worldwide facing shelter-in-place orders due to the spread of the coronavirus order essentials online. The company has expanded rapidly to address the needs, pushing its workforce to more than 1 million people.
Amazon has said that its efforts to build out fulfillment and address the growing need for its services would soak up most of its profit, but has been unable to spend as much as it is taking in. In the second quarter, the company reported record profit after promising to spend as much as it brought in.
For the fourth quarter, Amazon expects to blow away its quarterly record for sales, predicting revenue of $112 billion to $121 billion, while analysts had expected $112.66 billion on average.
"We're seeing more customers than ever shopping early for their holiday gifts, which is just one of the signs that this is going to be an unprecedented holiday season," Chief Executive Jeff Bezos said in Thursday's news release. "Big thank you to our employees and selling partners around the world who've been busy getting ready to deliver for customers this holiday."
Amazon stock declined about 1% in after-hours trading following the results Thursday, likely due to the only miss in the report, Amazon's projection for fourth-quarter operating profit of $1 billion to $4.5 billion which undershot analysts' average expectation of $5.81 billion.
However, Amazon has struggled to predict profit during the pandemic. The company forecast operating income of $2 billion to $5 billion for the third quarter in July, but reported $6.19 billion in operating income Thursday. After the first quarter, Amazon predicted second-quarter operating income would range from a loss of $1.5 billion to a gain of $1.5 billion, but it eventually reported operating income of $5.84 billion.
The majority of Amazon's operating profit comes from its cloud-computing offering, Amazon Web Services. AWS provided $3.54 billion in operating profit in the third quarter on revenue of $11.6 billion, while Amazon's domestic e-commerce business contributed $2.25 billion and the overseas business produced $407 million, its second consecutive operating profit after years of losses.
Amazon's online-ad sales continued to boom, as the online-ad industry bounces back from struggles early in the pandemic. Amazon reported "Other" revenue, which is mostly ad-related, of $5.4 billion, up 49% from the same period last year.
Meanwhile, physical store sales — dominated by the Whole Foods grocery chain —- continued to struggle, with sales falling 10% year-over-year to $3.79 billion. However, Amazon does not count online orders picked up at physical stores in that figure, a practice that is on the rise, Chief Financial Officer Brian Olsavsky said in a conference call Thursday.
"Our year-over-year growth rate from online grocery sales continued to accelerate and we continue to offer more convenient options for customers including grocery pickup, which is now available from all Whole Foods Market stores," he said.
Amazon stock has gained 72.8% so far this year, as the S&P 500 index
SPX,
-1.70%
has gained 1.3%. The company had a market capitalization of more than $1.6 trillion as of Thursday's close.