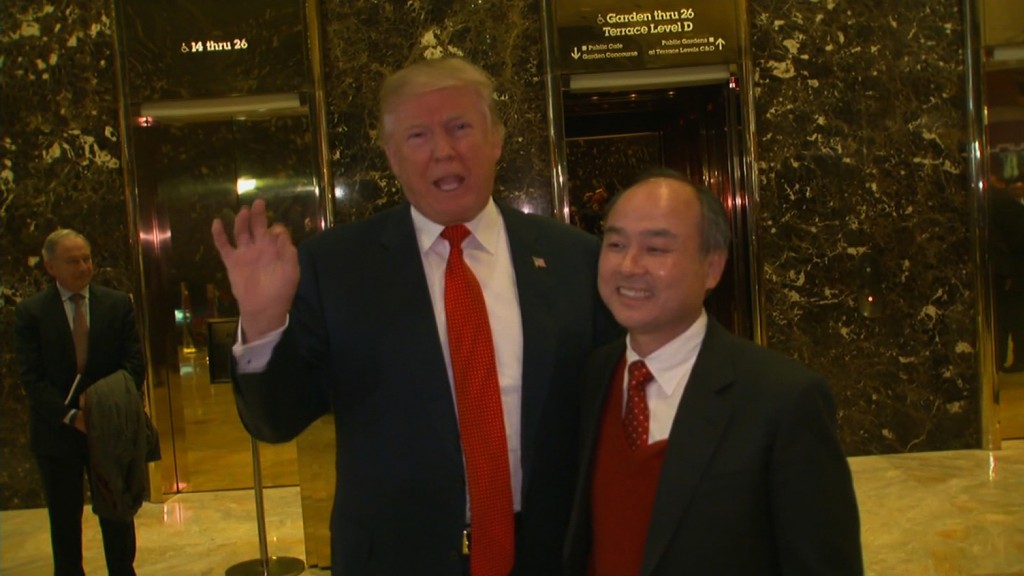 One of Apple's biggest suppliers is in talks to invest in the United States.
Taiwan-based Foxconn is a giant contract manufacturer that plays a key role in assembling iPhones for Apple (AAPL), employing hundreds of thousands of workers in mainland China.
"We are in preliminary discussions regarding a potential investment that would represent an expansion of our current U.S. operations," Foxconn said in a statement provided to CNNMoney.
The company was responding to the appearance of Foxconn's name on a document carried by a top Japanese tech CEO in a meeting Tuesday with U.S. President-elect Donald Trump.
Related: Trump claims credit for $50 billion investment by Japanese firm
After the meeting, Trump took credit for a planned $50 billion investment in U.S. startups by the Japanese company, Softbank (SFTBF), that he said would create 50,000 jobs.
Photos showed SoftBank CEO Masayoshi Son holding a document with the logos of both his company and Foxconn's.
"Commit to: Invest $50bn + $7bn in US, generate 50k + 50k new jobs in US in next 4 years," the document said.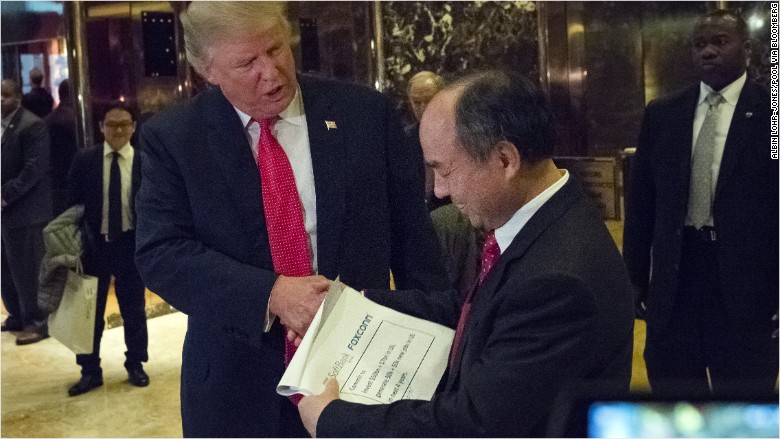 That led to speculation that Foxconn could be planning to invest $7 billion in the U.S. to create 50,000 jobs.
But Foxconn declined to provide any further information.
"While the scope of the potential investment has not been determined, we will announce the details of any plans following the completion of direct discussions between our leadership and the relevant U.S. officials," it said.
Foxconn declined to comment on whether the possible investment is linked to Trump's election.
Related: There's a lot of America in Apple products
Trump tweeted that Son told him Softbank's investment would not have happened if Trump hadn't won the U.S. election. After the meeting, Son said he told Trump he would like to "celebrate his presidential job" because Trump has made deregulation part of his platform.
But it wasn't clear how much of the money Son pledged might have ended up in the U.S. anyway.
In October, weeks before the election, SoftBank and the government of Saudi Arabia announced plans to form a $100 billion fund to invest in technology companies around the world. Son told The Wall Street Journal in an interview that the money he promised Trump would come from the huge fund.
It wasn't clear why Son was carrying a document with Foxconn's name on it. The two companies are separate, but they have partnered on robotics. Son is known to be friends with Foxconn's founder, Terry Gou.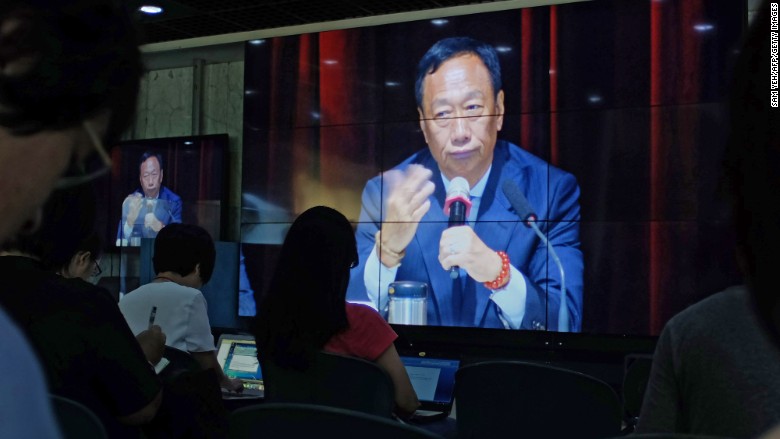 The role that Foxconn and other foreign firms play in manufacturing iPhones and other Apple products became a theme for Trump on the campaign trail.
"We're going to get Apple to build their damn computers and things in this country instead of in other countries," he said in January.
But he was oversimplifying the situation.
Some iPhone and iPad parts are already made in the U.S. And moving all the assembly jobs from China would be almost impossible under current conditions.
Foxconn has talked in the past of increasing its U.S. presence to meet the needs of its American customers. It said in 2013 that it would spend $30 million on a new factory in Pennsylvania, adding to plants in Texas and Indiana.
The company declined to provide updated information Wednesday on what operations it currently has in the U.S. or where things stand with the Pennsylvania project.
— Jill Disis and David Goldman contributed to this report.
CNNMoney (Hong Kong) First published December 7, 2016: 1:04 AM ET