[ad_1]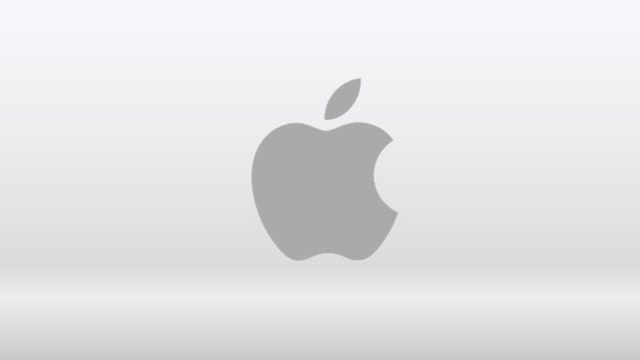 stock" width="640″ height="360″ data-width="640″ data-height="360″ data-og-image-twitter_small_card="true" data-og-image-twitter_large_card="true" data-og-image-twitter_image_post="true" data-og-image-msn="true" data-og-image-facebook="true" data-og-image-google_news="true" data-og-image-google_plus="true" data-og-image-linkdin="true" loading="lazy"/>
Source: Apple
Apple, Inc. (AAPL), the world's leading consumer electronics company which has increased in share price by 50.7% YTD despite a global recession caused by the COVID pandemic. With a healthy correction from its all-time high, and Apple due to report its Q4 earnings on October 29th, we believe it to be an appropriate time to consider entry into Apple. From this point, we believe several catalysts and risks may make or break its stock price in the near-term.
We are forecasting an earnings beat of 25% for Q4FY20, driven by popular mid-range iPhone SE to offset weakness in its flagship models and continued momentum on strong iPad and Mac sales from the work from home and online learning transition. Apart from our expectations of an earnings beat, we view Apple's current price levels as attractive. Our valuation of Apple which considers increased 5G sales in 2021, puts Apple's value at around 18% higher than its current price. Our technical analysis also shows that the stock has favorable momentum at its tail.
However, Apple also faces a number of risks that may affect the stock in the election week that follows. Firstly, the market was not impressed with the recent iPhone 12 launch, that marks Apple's first footstep in the 5G market. Despite a range of new functionalities and features announced, the stock sold off 7% in the following week. Add to this that the second wave of COVID-19 sweeping across the world might warrant partial lockdowns, and this now gives us cause of concern.
The economic slowdown continues to hamper consumer spending worldwide. In the US, political risk arising from the delay in stimulus due to a deadlock in negotiations by both sides could lead to a prolonged slowdown. Additionally, there is heightened uncertainty relating to the outcome of the elections as the president's approval ratings remain dismal in the polls. In the US-China trade war, a 'wait and see' approach by Beijing could see retaliation by China by backlisting American companies including Apple depending on the outcome of the election following the recent ban on TikTok and WeChat.
We consider the various factors including fundamentals, macro-risks, technical analysis and valuation of the company, and look at them in tandem in deciding if now is a suitable time to purchase shares of this high-flying company.
Catalysts
Expected Q4FY20 Earnings Beat
Apple has scheduled to release Q4FY20 earnings on 29 October, we are anticipating a strong earnings beat of 25% with an EPS of $0.88 versus consensus of $0.70. We highlight its resilient iPhone segment with declines in its flagship models offset by robust mid-range iPhone SE sales. Further, other products such as Mac and iPad continue to benefit from the work from home and the online learning transition while wearables growth may accelerate from the reopening of stores globally. Lastly, a growing product mix to leverage its massive user base could lead to continued services segment growth through upselling.
Apple's iPhone sales have held up, increasing 2% YoY in the previous quarter following a 7% decline in 2QFY20. Apple's outperformance is driven by its mid-range iPhone SE which has offset a decline in premium flagship models. We estimate iPhone shipments to be flat in the FY20Q4 with robust iPhone SE growth balancing out expected declines in flagship models. Due to continued weaken consumer confidence globally and consumers anticipating the upcoming next generation launch, we expect flagships to decline 6.5% which is in line with 1H 2020 performance. Though, we believe iPhone SE sales will grow and achieve its 15 mln sales target for 2020 due to its popularity among price conscious consumers. Overall, we see shipments down slightly at 0.4% YoY in Q4FY20, but higher selling prices leading to revenue growth of 7.1%.
| | | | | | |
| --- | --- | --- | --- | --- | --- |
| Apple revenues | Q4FY19 | Q1FY20 | Q2FY20 | Q3FY20 | Q4FY20F |
| iPhone shipments (mln units) | 46.6 | 73.8 | 36.7 | 37.6 | 46.7 |
| Growth YoY% | -0.6% | 6.3% | 0.8% | 11.2% | 0.2% |
| iPhone sales ($ bln) | 33.4 | 56.0 | 29.0 | 26.4 | 35.7 |
| Growth YoY% | -10.3% | 7.7% | -6.7% | 1.7% | 7.1% |
Source: Statista, Apple, Khaveen Investments
Apple's other devices continue to grow, supporting top line growth. Apple's iPad and Mac segments have seen robust double digit growth in spite of the pandemic as users transition to a work from home and online learning environment. The company was challenged with supply constraints to meet strong demand and expects sales growth to be maintained through Q4FY20.
On the other hand, its wearables segment which features the popular AirPods and Watch products saw growth decelerating to 17% in the last quarter. The company has attributed it to the shutdowns of physical stores, which meant fewer people could try on products such as watches. However, Apple has begun reopening some of its stores globally, thus a rebound in wearables sales is foreseeable. We believe growth is set to rebound moderately with an average growth rate of 32% which is still down from an average growth of 42% prior to the pandemic.
| | | | | | |
| --- | --- | --- | --- | --- | --- |
| Apple Other Products Revenues | Q4FY19 | Q1FY20 | Q2FY20 | Q3FY20 | Q4FY20F |
| Mac ($ bln) | 6.99 | 7.16 | 5.35 | 7.08 | 8.50 |
| Growth YoY% | -5.7% | -3.5% | -2.9% | 21.6% | 21.6% |
| iPad ($bln) | 4.66 | 5.98 | 4.37 | 6.58 | 6.11 |
| Growth YoY% | 13.9% | -11.1% | -10.3% | 31.1% | 31.1% |
| Wearables, home & accessories ($bln) | 6.52 | 10.01 | 6.28 | 6.45 | 8.64 |
| Growth YoY% | 54.1% | 36.9% | 22.4% | 16.6% | 32.5% |
Source: Apple, Khaveen Investments
Apple's revenues continue to shift towards its services portfolio. While Apple's products segments represent the majority of sales, the company has realized the incredible opportunity to tap its massive user base by upselling services such as:
Digital content: Sales from iTunes, Apple Store, AppleNews and streaming services such as Apple Music and AppleTV
iCloud: Subscription-based cloud storage
Apple Care: Warranty program for Apple products
Apple Pay: Digital wallet and P2P payment application
Apple Card: 0% monthly interest credit card for Apple products with loyalty programs
Apple Fitness+: Personalized health tracking and monitoring application
As seen below, Apple has managed to increase service revenue per device by 11.7% on average in the past 5 years. Based on an estimated install base of 1.6 bln devices, we estimate service revenues to reach $55.32 bln in 2020 representing a 19% yearly growth rate.
| | | | | | | |
| --- | --- | --- | --- | --- | --- | --- |
| Apple Service Revenues | 2015 | 2016 | 2017 | 2018 | 2019 | 2020F |
| Install Base (bln units) | 1 | 1.1 | 1.3 | 1.4 | 1.5 | 1.6 |
| Growth % | N/A | 14% | 14% | 8% | 7% | 7% |
| Service revenues ($ bln) | 19.92 | 24.36 | 29.98 | 38.47 | 46.3 | 55.32 |
| Growth % | N/A | 22% | 23% | 28% | 20% | 19% |
| Revenue per device ($) | 19.9 | 21.4 | 23.1 | 27.5 | 30.9 | 34.5 |
| Growth % | N/A | 7.3% | 7.9% | 19.2% | 12.3% | 11.7% |
Source: Apple, Khaveen Investments
Thus for Q4FY20, we forecast revenues to rise 28% to $16.09 bln as its services portfolio gathers pace from entertainment services such as Apple Music and Apple TV+. Apple Music has recorded its highest revenue ever with over 60 mln paid subscribers. Meanwhile, Apple Pay which is available in over 60 countries is gaining from contactless payment trend recording over 1 bln in transactions per month. While Apple News has set a record with over 125 mln monthly readers. Overall, activity remains high across its portfolio with the App Store recording an increase of 31% YoY on consumer spending on app purchases to $19 bln in Q4FY20 according to Sensor Tower.
| | | | | | |
| --- | --- | --- | --- | --- | --- |
| Apple Services Revenues | Q4FY19 | Q1FY20 | Q2FY20 | Q3FY20 | Q4FY20F |
| Services ($ bln) | 12.51 | 12.72 | 13.35 | 13.16 | 16.09 |
| YoY Growth % | 25.4% | 16.9% | 16.6% | 14.8% | 28.6% |
Source: Apple, Khaveen Investments
Overall, our forecast for Q4FY20 is revenue growth of 17% YoY on resilient iPhone sales, robust iPad and Mac sales momentum, a potential pick up in wearables growth from store reopenings and solid services growth. Our forecast EPS of $0.88 is higher than the consensus by 25.7% and 12% higher YoY.
| | |
| --- | --- |
| Income Statement (mln) | Q4FY20 |
| Revenue | 75,056.79 |
| COGS (excluding D&A) | 43,052.3 |
| Depreciation & Amortization | 3,803 |
| Gross Profit | 28,201.13 |
| Research and development | 4,678.39 |
| Selling, general and administrative | 5,263.44 |
| Earnings Before Interest & Taxes (EBIT) | 18,259 |
| Interest | 436 |
| Earnings Before Tax | 17,824 |
| Tax | 2,495 |
| Net Earnings | 15,328 |
| No of Shares | 17,419 |
| EPS | $0.88 |
| Consensus EPS | $0.70 |
| Difference | 25.7% |
Source: Khaveen Investments, Seeking Alpha
Valuation
Resilient smartphone sales, pent up demand for other products and services revenue growth are expected to produce 9.5% total revenue growth in 2020. This is expected to follow through 2021 with a growth rate of 9.7% underpinned by the launch of new products and expanding services revenues, though other products such as iPad and Mac would moderate as people return to offices and schools. We also see increasing profitability from its services segment consisting of the App Store, Apple News, Apple Card and more. Also, note that services continue to grow in its share of revenues at 17%. Though, products still account for 82% of sales with iPhones representing the majority of it at 54.7% of sales.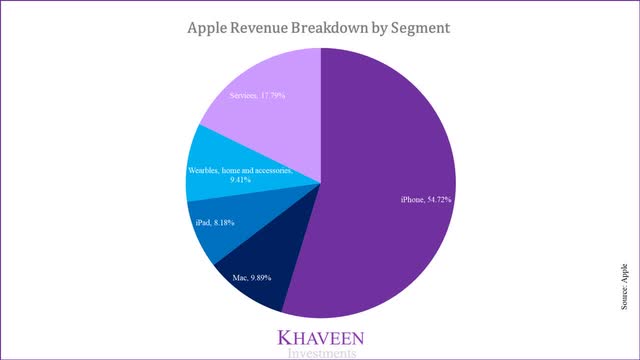 Source: Apple
| | | | | | |
| --- | --- | --- | --- | --- | --- |
| Apple Inc Segmental revenues ($ bln) | 2017 | 2018 | 2019 | 2020F | 2021F |
| iPhone | 141.3 | 165.8 | 142.4 | 147.1 | 150.0 |
| Mac | 25.8 | 25.4 | 25.7 | 28.1 | 29.0 |
| iPad | 19.2 | 18.6 | 21.3 | 23.0 | 23.8 |
| Wearbles, home and accessories | 12.9 | 17.4 | 24.5 | 31.4 | 44.2 |
| Services | 30.0 | 38.5 | 46.3 | 55.3 | 65.5 |
| Total | 229.2 | 265.6 | 260.2 | 284.9 | 312.5 |
Source: Apple, Khaveen Investments
In terms of gross margins, product margins have been in decline as it faces cost pressures from intense competition. While service margins have risen due to the scalability nature of its applications and expanding product mix. We are anticipating a decrease in product margins of 1.5% in Q4FY20 but counterbalanced by a margin expansion for services portfolio of 1.3%. Overall, this leads to a total gross margin of 38.07% for 2020 and 38.45% for 2021.
| | | | | | |
| --- | --- | --- | --- | --- | --- |
| Apple Gross margins % | 2017 | 2018 | 2019 | 2020F | 2021F |
| Products | 35.70% | 34.40% | 32.20% | 31.25% | 29.90% |
| Services | 55.00% | 60.80% | 63.70% | 66.37% | 70.69% |
| Total | 38.50% | 38.30% | 37.80% | 38.07% | 38.45% |
Source: Apple, Khaveen Investments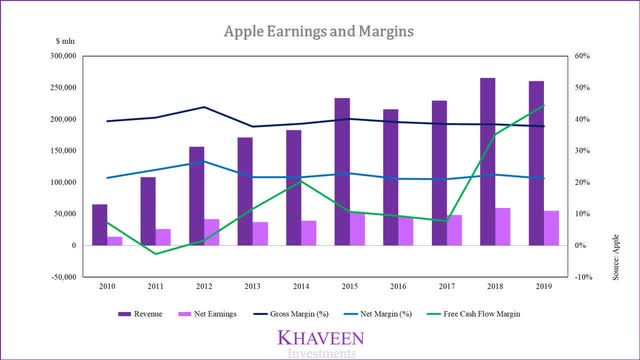 Source: Apple
Our assumptions for the company's operating costs include R&D expenditure at 6.23% of revenues which is based on 2019's ratio as the company's costs have risen moderately as it focuses on its innovation drive. Similarly, we assumed SG&A expenses to be 7.01% of revenues based on 2019, which has also risen slightly as it increased promotional activities spending.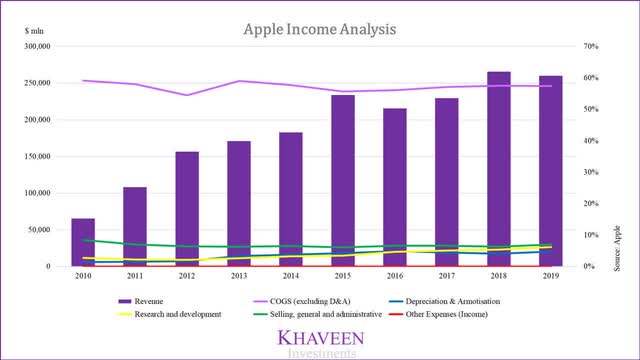 Source: Apple
| | |
| --- | --- |
| Apple's Income Statement ($mln) | 2021F |
| Revenue | 312,523 |
| COGS (excluding D&A) | 177,830 |
| Depreciation & Amortization | 9,775 |
| Gross Profit | 120,176 |
| Research and development | 19,480 |
| Selling, general and administrative | 19,978 |
| Earnings Before Interest & Taxes (EBIT) | 80,718 |
| Interest | 1,743 |
| Earnings Before Tax | 78,976 |
| Tax | 11,057 |
| Net Earnings | 67,919 |
| No of shares outstanding | 17,419 |
| Earnings per share | $3.90 |
Source: Khaveen Investments
Overall, we estimate Apple's earnings in 2021 to be $67,919 mln with an EPS of $3.90, increasing 11.6% Y/Y.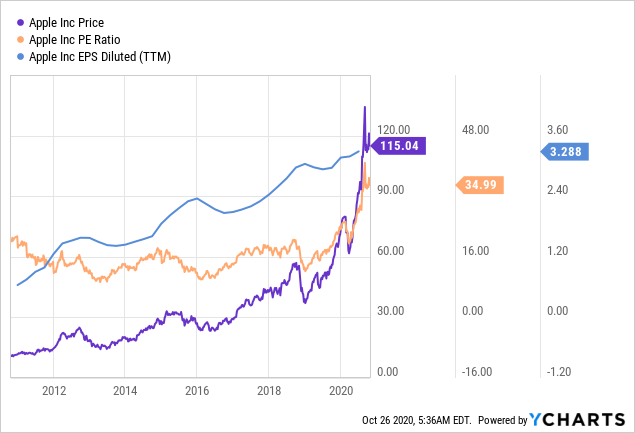 Source: YCharts
Apple's current P/E ratio of 34.99x is at 10-year highs. However, so is its current EPS ($3.30). Our 2021 EPS target of $3.90 blows this completely out of the water, which is why we feel its current P/E ratio of 34.99x is suitable to be based on for next year. Applying this P/E ratio gives us a valuation of $136.46, which is 19% above Apple's current share price.
| | | |
| --- | --- | --- |
| P/E (1-yr Forward) | Valuation | Upside/downside |
| 34.99x | $136.46 | 18.62% |
Source: Apple, Macrotrends, Khaveen Investments
Technical Analysis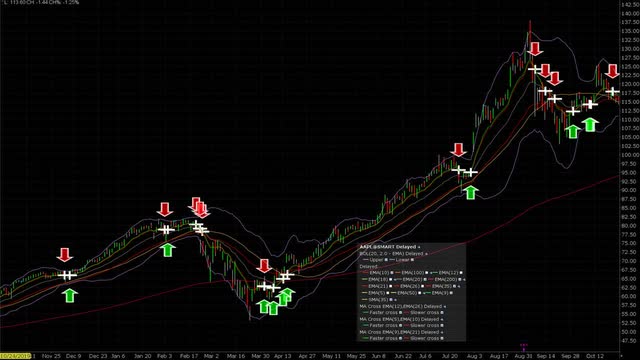 Source: Interactive Brokers, Khaveen Investments
Our selection of technical indicators suggest that the stock price has been bullish since the start of the month. While still above the 50-day moving average, it is starting to break below the 35-day moving average. Additionally, the MACD occurred last week for the 5-day and 10-day exponential moving averages. This is our first main signal that the market is starting to turn. Overall, the trend is still in favor of Apple, though investors in the green should start to book some profits.
Looking at the Bollinger bands (20-day EMA +/- 2σ) however, the upper and lower bands are not too far apart, which reduces the risk of massive price swings as what we saw in September. Statistically speaking, over the 20 days, Apple's stock price should trade between the $111 and $123, with a 95% confidence interval.
Risks
Uninspiring iPhone 12 launch
One of the most anticipated product launches each year is the next generation flagship iPhone. This year's iPhone 12 launch on the 13th of October was disappointing to say the least. Considering that the iPhone makes up more than half of its sales, the launch was anticipated to have a big impact on the stock price. Last year, its stock rose by 1.5% in the days following the launch of the iPhone 11. But this year's event had more significance (over 2.5 million people were livestreaming the event on YouTube), as it marks the company's entry in the emerging 5G market. Disappointingly however, the stock price moved in the opposite direction, dropping 7% in the week that followed.
The iPhone 12 features major updates in design and performance. The most notable of change is 5G support for all models with the more expensive iPhone 12 Pro Max featuring the faster but more limited mm Wave 5G support for US, Korea and Japan markets.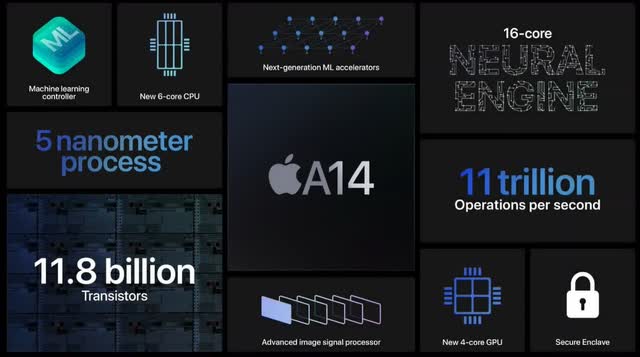 Source: NotebookCheck
Besides that, the phone features LIDAR integration, augmented reality technologies and advancing camera functionalities by improving autofocus capabilities to allow users to take better pictures. In addition, its featured 5nm A14 processor has performance and power efficiency advantages over rivals. The chipset is the company's most advanced and most powerful processor. Compared to the 7nm Snapdragon 865, it is believed to be 15% faster with 30% lower power consumption, giving Apple an advantage until the 875 launches.
As impressive as these are, these features were all expected. However, Apple's rumored luxury headphones, the AirPods Studio were not featured. The main surprise is that the new iPhones do not include chargers or headphones, and consumers would have to buy them separately. While this isn't enough to justify the huge drop in share price that followed, Apple has definitely not impressed the market enough with its newest iPhone launch. This could be the market's way of signaling that Apple has not done enough to outcompete other major smartphone makers; Samsung, Huawei, Oppo, Xiaomi and Lenovo.
Second Wave of Store Closures
Earlier in March, Apple had closed most of its stores globally in response to the pandemic, all of its 271 stores across the US were shut. As the pandemic started to subside, the company began reopening stores in May but reclosed more than 120 stores in July as cases rose sharply. Since August, the company had begun reopening stores in phases with restrictive guidelines. Globally, its stores across the Asian region including China has been long reopened as well as in other countries such as Australia, Canada, Germany and more.
While many stores have opened, a remaining 10% of stores are still closed. Meanwhile, a second wave of the virus has hit with some countries in Europe already implementing stricter containment measures. Cases in both the United States and the world continue to rise.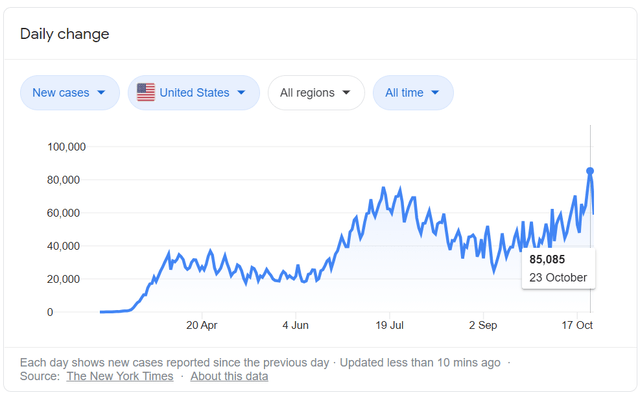 Source: New York Times, Google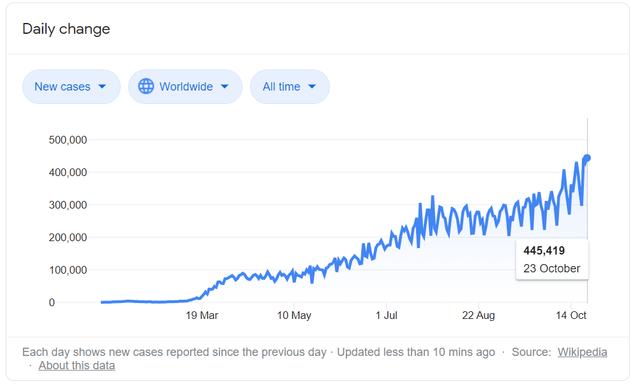 Source: Wikipedia, Google
As seen above, the 23rd of October saw new COVID cases in the United States and the World reach all-time highs, of 85,085 and 445,419 cases respectively. While many countries including the United States have asserted that another full-scale lockdown is off the cards, the lack of any vaccines and rising cases may stem the need of at least partial lockdowns. This might push Apple to reclose its stores, which is huge negative signal for its share price.
We do note that Apple has accelerated its push into online channels. This transition is especially seen in emerging markets such as India, where it had recently launched an online store, where it has a massive consumer base and dominance over the premium market with almost 50% market share. Further online store launches in the near-term may offset any loss of sales from physical stores.
Economic and political uncertainty
With the economy only expected to recover to pre-COVID levels in 2023, we believe the company still faces several economic and political risks in the near term. While the company has done remarkably to withstand market pressures, persistent economic weakness may continue to hinder consumer confidence. The company has benefitted from the CARES Act providing stimulus checks to millions of consumers earlier, but that has already passed, and consumer spending is starting to show signs of weakness again.
Therefore, further stimulus is needed to support consumer spending in the short term. The HEROS Act was expected to maintain a $600 bln package for consumers with another round of stimulus checks, but negotiation deadlocks between Democrats and Republicans on the size of the stimulus package have seen it being delayed after the election and possibly into 2021. We expect this will in turn have a major impact on consumer spending for the remaining year and in turn hurting Apple, forecasting a loss of 10.9% in consumer spending without additional stimulus.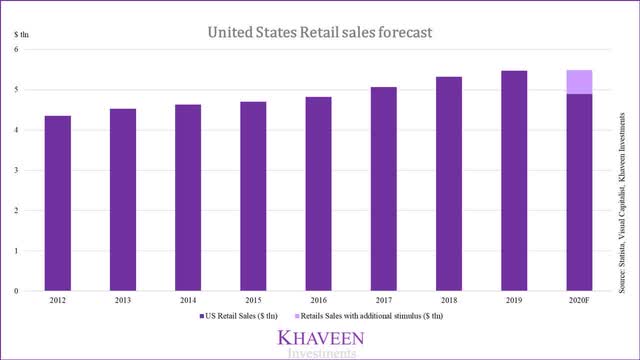 Source: Statista, Visual Capitalist, Khaveen Investments
When the president of the United States contracting COVID-19, it was a huge blow to his re-election chances this year, as his approval ratings plummeted. While this does not affect Apple directly, the broader market including Apple, took a huge hit to their share prices when Trump contracted COVID-19. Apple stock dropped 3.62% on the announcement. While Trump has recovered, further uncertainty exists surrounding the appointment of the vacant Supreme Court justice position. Overall, political and economic uncertainty remains high for the next few months, which could heavily impact the broader market including Apple.
Escalating US-China trade tensions
Another risk that can't be ignored is associated with the trade tensions between US and China. As the US exerts increasing pressure on Chinese tech companies such as Huawei, China is believed to retaliate by imposing countermeasures against US companies such as Apple. In September, the US banned WeChat and tried to restrict the sale of TikTok, further adding fuel to the fire. Reports have indicated that China is preparing to blacklist companies including Apple in its 'unreliable entity list' which could restrict US companies operations in the mainland.
As Beijing speeds up the development of a blacklist, they may be withholding action until after the election in a 'wait and see' approach. Thus, action by China could be expected after the election as the government decides on what to do depending on the outcome. An unfavorable outcome, could be huge for Apple, putting up to 17% of sales at risk depending on the action of the Chinese government. Having said that, any action against Apple would probably start small and slowly, as Apple's supply chain still depends heavily on Chinese production and could be a reason less for retaliation. At least 75% of Apple's suppliers have production sites in China.
Regardless if the US gets a Republican or Democratic president, we expect the opposing party to blame China for 'interference'. This together with a flurry of other news relating to the US-China trade relations after the election, will see huge rises in volatility especially for growth stocks like Apple.
Verdict
An innovative powerhouse with one of the strongest brand names globally, Apple continues to refresh its product lines as seen with the iPhone 12, Silicon Macbook, iPad Air and more. In the long term, its services segment could be a key growth driver with an expanding product mix to leverage its massive install base of over a billion devices globally. Not only are revenues increasing, but so is profitability with the highly scalable nature of its services portfolio leading to margin expansions in the future. Despite being the great company, that Apple is, if there's one thing that 2020 taught us, it is to expect the unexpected.
While we forecast an earnings beat for Q4FY20, on the 29th of October, the market may be unfazed given the crushing stock market reception of the iPhone 12 launch. While our valuations show 19% upside for Apple stock based on FY2021 earnings, as well as technical analysis indicating bullishness, we are coming into election week (2nd of November) with numerous risks in the market surrounding the economic slowdown, made worse by political uncertainty delaying the much needed stimulus. Depending on the outcome of the election, China may soon officially take action against US companies by blacklisting Apple. Add to that the second wave of COVID sweeping the world, we do not feel it is the right time to purchase more Apple shares given the various risks present. We feel investors should maintain their current investment positions in Apple, and re-evaluate this after the election week, when we should have a clearer picture of the political landscape in the US. At the moment, we rate Apple as Hold.
Note: For more research and analysis of high-quality companies within the global smartphone industry, please click the "Follow" icon at the top of this page.
Disclosure: I am/we are long AAPL. I wrote this article myself, and it expresses my own opinions. I am not receiving compensation for it (other than from Seeking Alpha). I have no business relationship with any company whose stock is mentioned in this article.
Additional disclosure: No information in this publication is intended as investment, tax, accounting, or legal advice, or as an offer/solicitation to sell or buy. Material provided in this publication is for educational purposes only, and was prepared from sources and data believed to be reliable, but we do not guarantee its accuracy or completeness.