[ad_1]

We made the bear case for The Boeing Company (NYSE:BA) some time back. Since then, the stock has underperformed the market, and we have also seen its Q3-2020 results.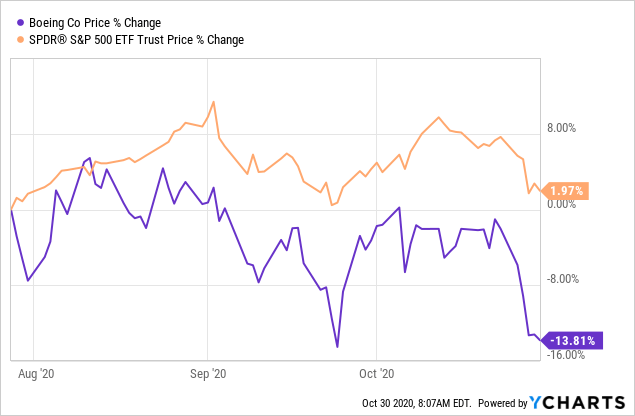 We wanted to see if the results validate our bearish stance or was it time to change our tune. Let us take a look.
Q3-2020
The headline number was a "beat". Both Non-GAAP and GAAP numbers came in comfortably above expectations. Revenues came in at a shade over $14.1 billion.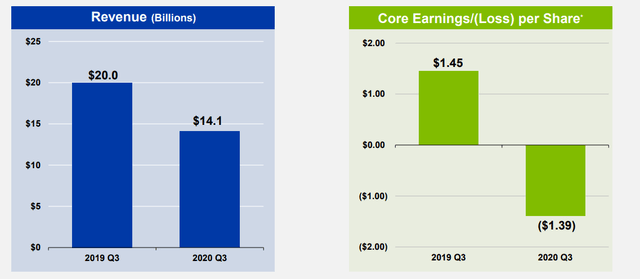 Source: Q3-2020 Presentation
What is notable here is that Boeing needs a very large amount of base revenues to break even. Small drops in revenues have a big impact on its earnings run rate as the company's fixed costs are very high. We can see this even in the profitable segments.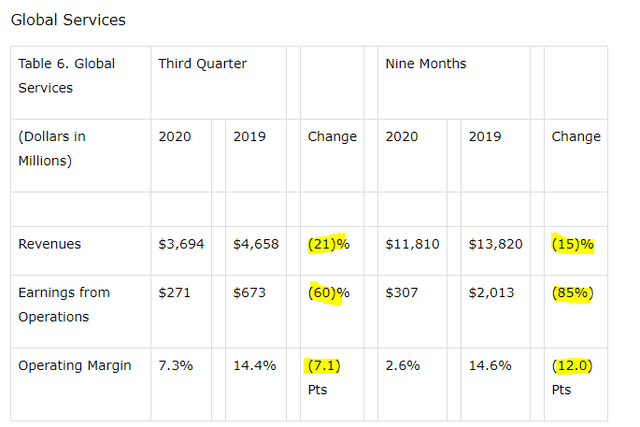 Source: Q3-2020 press release
Global Services has seen its margins plummet with a small decrease in revenues, and the bear case is that we are entering a long period of weak revenues characterized by very weak margins.
Debt Build-Up
The company burnt through another $4.8 billion approximately in the quarter as cash decreased by about $5.3 billion, and consolidated debt edged down by $0.4 Billion.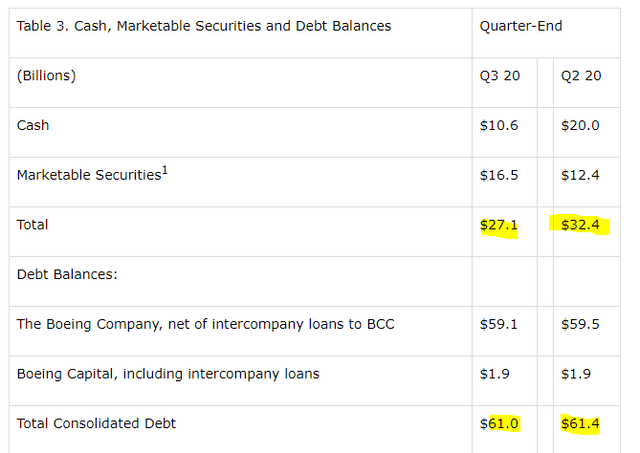 Source: Q3-2020 press release
Net debt continues to move upward at a brisk clip, and investors are reminded that, two years back, this net debt was at under $2.0 billion.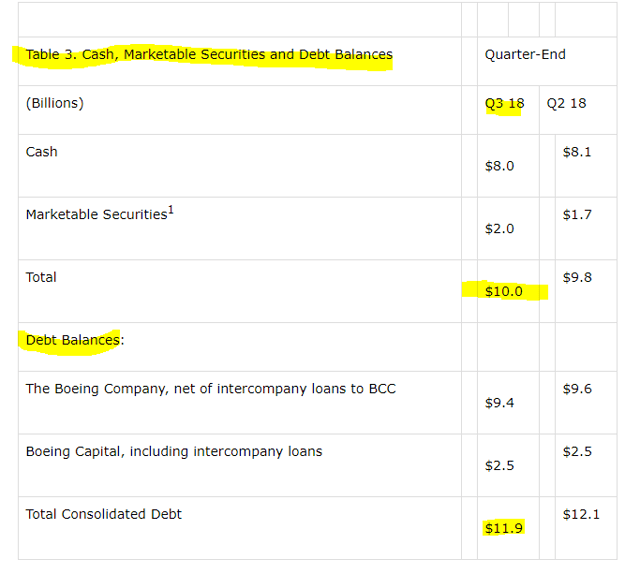 Source: Q3-2018 press release
We have now moved to almost $34 billion, and this is a massive amount even for a company the size of Boeing. We have currently no exact date as to when this cash burn will stop, but our estimate is that it will take at least 3 more quarters, during which net debt will be closer to $45 billion. How is this going to be paid down? To get a handle on that, we have to examine Boeing mid-cycle numbers. By mid-cycle, we mean that we have to ignore the strongest part of the cycle which was mid-2017 and all of 2018. That level of profitability is not coming back any time soon. Looking back further, we can see that Boeing generated about $8 billion annually in free cash flow in 2016.
At that rate, and that will be a stretch, it will take 6 years to pay back this debt. This paydown is very essential, and Boeing will get on this task as soon as possible as both Fitch and Moody's have the company's debt at the lowest level above junk, alongside a negative outlook.
Estimates Are Still Too Optimistic
When we made our bearish case last time, a key facet was that the analysts were just too optimistic on the earnings. we believed that those earnings would never come to pass as margins will take a long time to recover even if a good deal of the revenue does come back as scheduled. The estimates were also not taking into account that airlines were now going into an ultra-low margin environment, and upgrading the fleet is going to be a plan for the second half of this decade. With that in mind, let us see how this has panned out.
When we last wrote on this, 2020 EPS estimates were at a high net loss of $5.61, and analysts expected almost $7.00 to be made in 2021.

Source: Seeking Alpha
Fast forward to some more reality and grounding (pun intended) from two more quarters and suddenly analysts are reconsidering their views.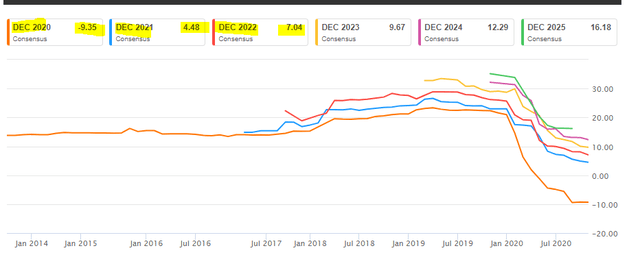 Source: Seeking Alpha
That chart above updates at the end of the month, but consensus averages have fallen further in the last few days.

Source: Seeking Alpha
Even there, there is a very wide dispersion, with some analysts expecting losses and others forecasting a rather optimistic turn.
Two Ways To Look At It
From our perspective, when all of this is said and done, Boeing will report a rather sizeable loss for even 2021. The revenue is just not there to support a high operating margin. Debt will continue to accumulate at a rapid clip, and investors wanting returns will have to wait a long time. Buybacks are only going to happen post some serious deleveraging, and in the interim, investors will ask whether they want to own something at this multiple.
If you do want to buy it, we think a good way would be to aim for at least a 0.8X on the price to sales ratio. That gives you a better chance at making returns.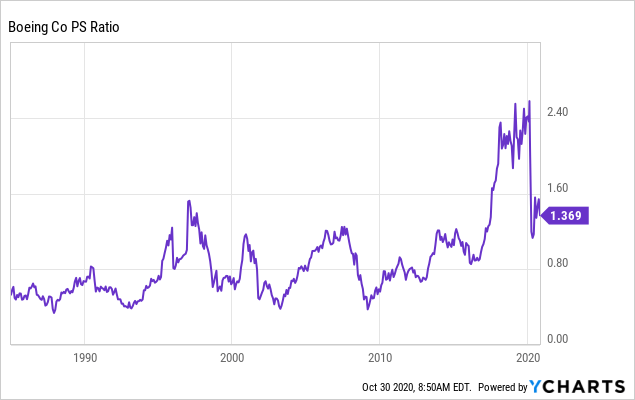 Conclusion
Investors were pricing in a "V" shaped recovery in the earnings, and in our opinion, they are still too optimistic. Boeing may boast of a big backlog, but we see that whittling down over time, and even recognizing that backlog will be difficult. Many airlines likely will go under in the next few years, and we can expect delays, deferrals, and cancellations.
Even our suggestion of buying this at 0.8X sales is based on the idea that the cash drainage stops midway through 2021. If that is incorrect, the company may face an existential risk down the line. Caution is still advised here.
Are you looking for Real Yields which reduce portfolio volatility and outperform in bear markets?
Conservative Income Portfolio targets the best value stocks with the highest margins of safety. The volatility of these investments is further lowered using the best priced options. Our Cash Secured Put and Covered Call Portfolios are designed to reduce volatility while generating 7-9% yields. We focus on being the house and take the opposite side of the gambler.
Learn more about our method & why it might be right for your portfolio.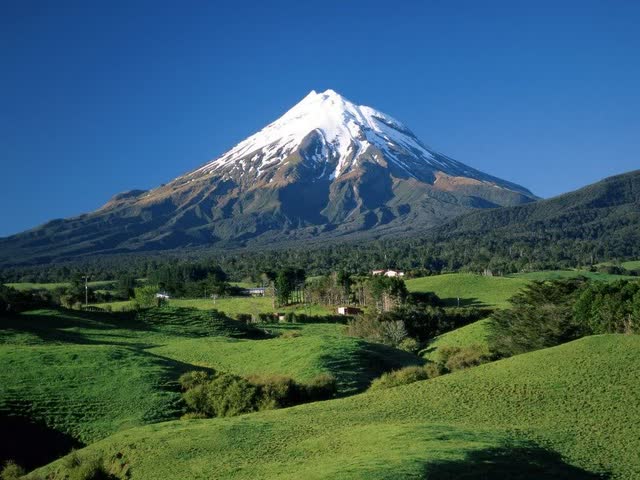 Disclosure: I/we have no positions in any stocks mentioned, and no plans to initiate any positions within the next 72 hours. I wrote this article myself, and it expresses my own opinions. I am not receiving compensation for it (other than from Seeking Alpha). I have no business relationship with any company whose stock is mentioned in this article.