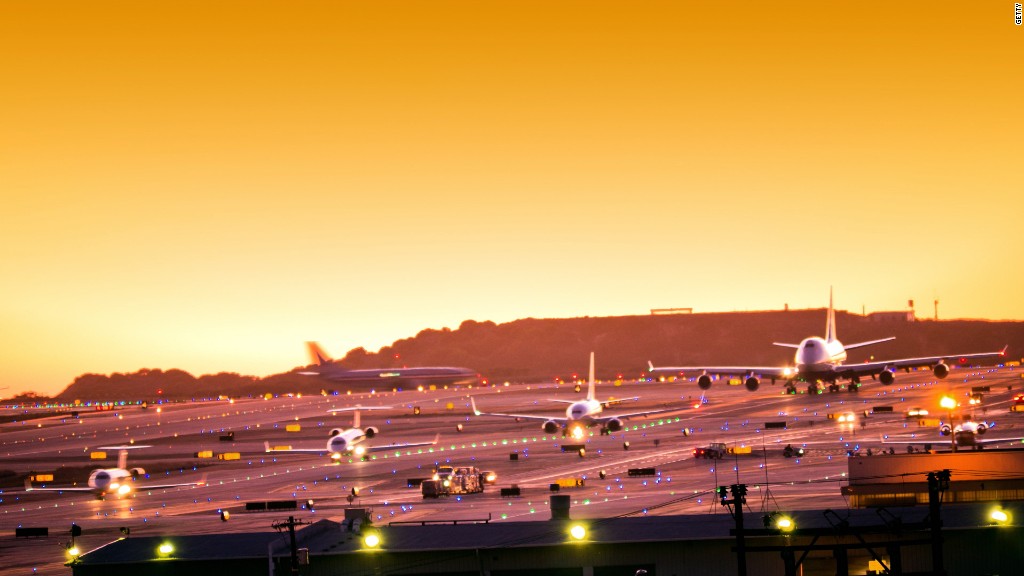 Boeing will once again make its own airplane computers and electronics, bringing the work back inside the company nearly 15 years after it shuttered and outsourced its electronics unit.
Boeing CEO Dennis Muilenburg said in an internal company message that the creation of a new avionics group will "further drive cost down" and help its customers.
But the announcement has left people in the industry wary about how it could impact the companies that currently supply electronics for the aerospace giant.
Those companies employ thousands of people.
For example, Boeing is one of the largest customers of Rockwell Collins (COL), a company in Cedar Rapids, Iowa that makes avionics and electronics for every Boeing commercial airliner. The company's stock fell sharply on Monday when the news broke but bounced back on Tuesday.
A Rockwell spokeswoman said the company is "well aware that this is a long-term strategy for Boeing and do not anticipate any impact to our business in the foreseeable future."
Honeywell (HON), United Technologies (UTX) and General Electric (GE) make a wide variety of technologies for Boeing today that run aircraft navigation, flight controls, information systems and other core avionics.
Honeywell said in a statement it would continue to exceed the needs of its customers, without mentioning Boeing by name.
Related: Four huge airlines on three continents are creating a virtual super-airline
Boeing, America's largest exporter, continues to bring key manufacturing technologies back under its own operations. That marks a shift from a strategy it adopted in the early 2000s to outsource key portions of its manufacturing and design.
Today Boeing sees big profit in the in-house design of electronics — especially if it can sell those parts to airlines and militaries around the world as replacements during a jet's lifetime.
That's the core of the business model for its suppliers that give a cut rate price to Boeing on parts for each jet, but anticipate making back their investment in the aftermarket.
Boeing wants to rapidly grow its new dedicated services business — which will offer everything from pilot training and maintenance to spare parts — to $50 billion in revenues over the next decade. That's up from around $14 billion now.
Related: Boeing reorganizes into three parts: Airliners, fighters and spare parts
Boeing said it is adding around 500 jobs by 2019 and it expects to employ about 600 people (up from 120 today) in the new avionics division.
However, the company has shed about 15,000 jobs in the last 18 months in a push to sharply slash costs.
The value of bringing outsourced work back into the company, like designing its own avionics, is one of the expensive lessons Boeing learned from its 787 Dreamliner. The company spent billions more than it expected and suffered three years of delays building the jet.
Aircraft have been getting increasingly smarter and more integrated. Advanced computer electronics and avionics are needed to unite all of their systems.
Related: World gets first peek at Boeing '797'
Boeing hasn't said what airplanes its homemade electronics would be installed on, but it did say it "has begun development for systems that are targeted for entry into service next decade."
Boeing's new middle-market airplane, commonly referred to in the industry as the "797," is expected to be ready for airlines in the middle of the next decade if the company is given the green light by its board of directors.
That airplane's development will kick off a scramble by companies to win new business to supply the millions of parts that go into each of its jetliners.
Its electronics and central computers are one of the highest value prizes for any supplier looking to do business on a new airplane. And the creation of Boeing's new avionics unit strongly suggests that it wants to do the work itself.
CNNMoney (Seattle) First published August 1, 2017: 7:08 PM ET