Goldman will make booster shots compulsory for staff. China weighs new restrictions on offshore listings. Taiwan braces for more Chinese warplane flybys. Here's what you need to know this morning.
Goldman Sachs, one of Wall Street's staunchest advocates of returning employees to offices, will make booster shots compulsory and will impose twice-weekly mandatory testing. In contrast, France and Greece will order citizens to work from home for most of next month. Meanwhile, Anthony Fauci urged authorities to "seriously" consider rules on vaccination for domestic travelers as the omicron variant fuels record Covid case loads in some states. The U.S. Center for Disease Control shortened isolation and quarantine periods, citing studies showing the majority of coronavirus transmission occurs early in the course of the illness. Elsewhere, a top Israeli hospital has started what it says is the first formal clinical trial examining the safety and efficacy of a fourth dose of Covid vaccines.
Asia-Pacific stocks may get a boost following record highs for U.S. stocks as holiday sales climbed at the fastest pace in years, even as Americans dealt with higher inflation and product shortages. The Treasury yield curve flattened in the U.S. session and benchmark bonds gained. A U.S. gauge of Chinese stocks dipped, taking its 2021 losses past 44% amid Beijing's regulatory crackdown. Bitcoin's market share dips as other crypto coins gain appeal.
China will impose new restrictions on offshore listings by firms in sectors that are off-limits to foreign investment, a move that could plug a loophole long used by the country's tech industry to raise capital overseas. The requirements apply to new share listings and won't affect the foreign ownership of companies already listed overseas. It's one of the biggest steps by Beijing to tighten scrutiny on these companies, after ride-hailing giant Didi proceeded with its New York debut despite regulatory concerns. Didi — which has lost $42 billion in value since its IPO — has said it is preparing to delist from the U.S. and pursue a Hong Kong listing.
Expect more shipping chaos next year as omicron risk forces transport workers, from seafarers to truck drivers, to quit or change jobs. Logistics companies around the world, from global giants to small businesses, can't find enough staff as governments tighten restrictions and virus infections surge. Elsewhere, business disruptions are also leaving CEOs nervous about losing their jobs in 2022. A new survey shows that 72% of chief executive officers fear an imminent firing, up from 52% in 2020, according to a new global survey. Supply chains and the labor market topped the executives' list of concerns.
Taiwan is bracing for more Chinese military patrols in 2022, after warplane incursions more than doubled this year. China has used the flights to demonstrate an expanding variety of hardware, including long-range bombers, electronic-warfare fighter jets, refueling tankers and radar planes. The patrols have also put added strain on Taiwan's air-defense systems and given the People's Liberation Army intelligence about how Taipei would respond to an attack. That is fueling concern about a potential clash, as slated political events in 2022 put pressure on Presidents Xi Jinping and Tsai Ing-wen to show strength, and for Joe Biden to maintain a firm line toward Beijing before congressional midterm elections. 
What We've Been Reading
And finally, here's what Cormac's interested in today
A record run of weaker-than-expected yuan fixes may have come to an end Monday, but China's currency strength will continue to occupy the minds of emerging-market FX traders given its increasing influence in that market. The currency's one-year correlation with an MSCI index of developing-nation peers hit a record this year, as my colleagues discussed last week. While the increasingly close relationship is partly a result of China's large weighting in the gauge, it also reflects the country's deepening connections with other emerging markets.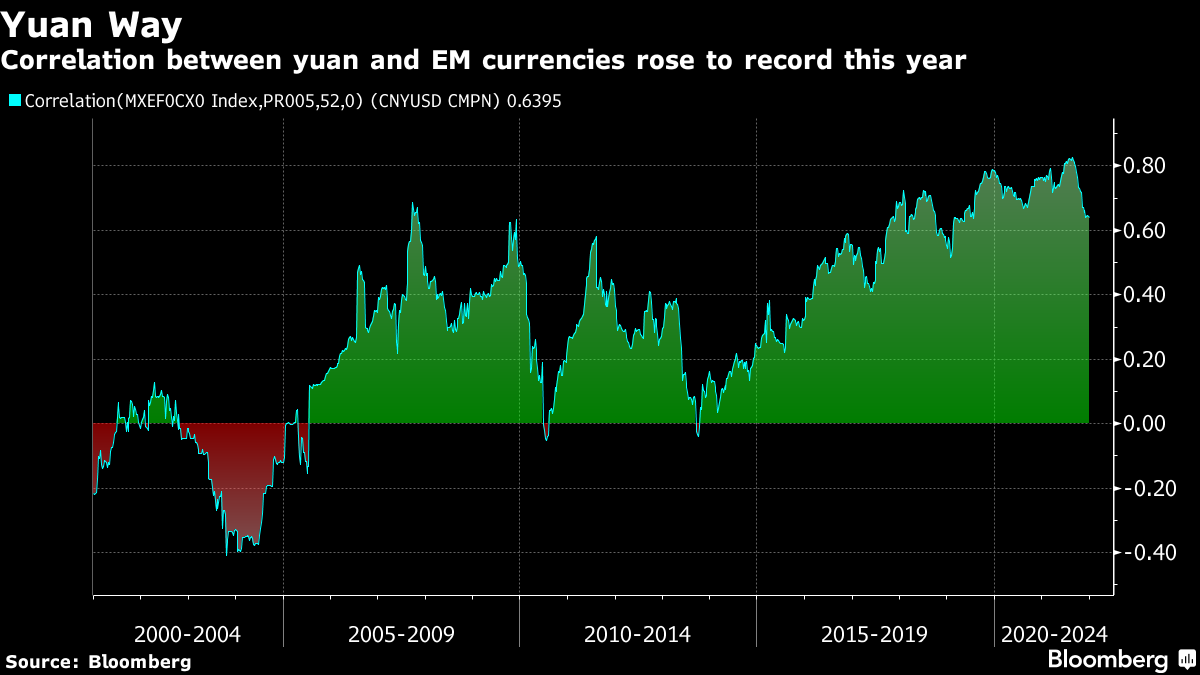 In 2000, the average developing nation sent only 2.2% of its exports to China, while that proportion has now grown to 11.3%, according to data from Societe Generale. This year, yuan strength has helped dampen swings in emerging-market currencies at a key time — just when a resurgent dollar threatened to upend them. So any signs of Chinese authorities increasing their efforts to limit yuan appreciation could have the opposite effect on emerging-market FX, opening up the door for more volatility.
Cormac Mullen is a Deputy Managing Editor in the Markets team for Bloomberg News in Tokyo.
— With assistance by Cormac Mullen