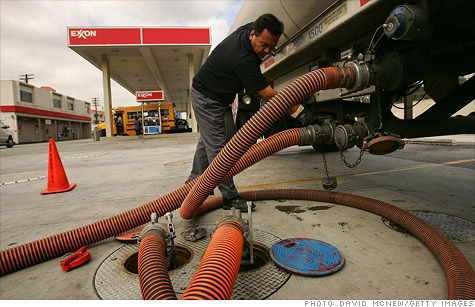 Gas station owners say suppliers are deliberately charging them higher prices for their gasoline supplies.
NEW YORK (CNNMoney) — — Think you're mad that gas prices are still high, even as oil prices are falling? Gas station owners in New York, Maryland and other states are furious about that, too, and they're blaming their suppliers for gouging them.
And some state attorneys general are taking notice.
New York Attorney General Eric Schneiderman has initiated a probe to see if gasoline suppliers are gouging or otherwise manipulating prices. His office has received numerous complaints from gas station owners since February.
New York state law prohibits suppliers from taking unfair advantage of consumers by charging grossly excessive prices for essential consumer goods or setting different prices for different areas in the same market.
The probe is looking at prices along the entire gasoline supply chain — from the wholesale price refiners set on down to the price distributors charge gas stations.
"The probe may show no wrongdoing. But where there are instances of gouging and price fixing, we will take action," said Lauren Passalacqua, spokeswoman for the AG's office.
Last week Schneiderman was appointed to a national Oil and Gas Price Fraud Working Group that includes U.S. Attorney General Eric Holder and representatives from the Department of Justice, the Commodity Futures Trade Commission, the Federal Trade Commission, and the Departments of Agriculture and Energy.
The group of federal and state agencies is looking into claims of potential wrongdoing throughout the gasoline distribution chain.
Last week, Maryland Attorney General Douglas Gansler also initiated a probe into price gouging and price fixing both at the wholesale and retail levels after receiving several complaints from consumers and station owners in his state.
A spokesperson for Gansler's office said the probe has found some instances where gasoline suppliers were gouging station owners.
Gansler's office declined to name gasoline suppliers mentioned in the complaints or to give pricing details.
However, given the absence of a price gouging statute in the state, the AG's office said it is looking into whether these instances constitute a violation of Maryland's Antitrust Act or its consumer protection act.
'It's basic business": Jerry Delbene, a gas station dealer in New York, is accusing his supplier, CPD Energy, of outright gouging him.
Delbene is selling gas for $4.25 at one of his two stations in New York. That's 14 cents above Friday's average for a gallon of regular unleaded gasoline in the state of New York.
Delbene would like to lower that price, since the wholesale price of gasoline has dropped more than 45 cents a gallon in the last two weeks, according to Oil Price Information Service (OPIS) which provides petroleum pricing benchmarks.
But he says he can't until his supplier first lowers his price — that's why his customers aren't yet feeling relief at the pump.
"Distributors are charging us so much higher than what they're now paying for gas," he said. "Every time I ask why, I get the company line that 'we don't discuss prices.'"
Here's how Delbene breaks down his gas costs.
Delbene buys 4,500 gallons of gas a day from CPD, a large gasoline distributor in the Northeast that represent Shell (RDSA), Mobil (XOM, Fortune 500), Gulf, and Sunoco (SUN, Fortune 500) brands.
The "rack price," the price at which his supplier is buying wholesale gas from a terminal in upstate New York, was about $3.12 a gallon on Thursday.
"But my supplier charged me $3.49 for the 4,500 gallons of gas I bought today," he said. "Why?"
"If I lower my prices right now, I'm not going to make any profit," he said. Stripping out credit card fees and other costs, Delbene said he's currently making a profit of about 8 cents a gallon.
"These suppliers are keeping their prices high and it's not fair. They're going to force us dealers to go out of business."
And since he's also leasing his station from his gas distributor, Delbene said he can't exactly just pick another distributor over CPD.
Instead, Delbene said his trade group, Gasoline & Automotice Dealers of America, has notified the New York Attorney General's office about possible "price gouging" by suppliers.
A representative for CPD Energy, who did not want to be named, said the rack price still remains volatile and hasn't fallen consistently.
"When our rack price falls for 6 days straight, then we may start lowering our prices to dealers," the CPD representative said.
He said oil companies, suppliers and gas dealers all know that it's when oil prices fall that the industry makes money. When wholesale prices, fall suppliers and gas stations keep their prices high, in a practice they call "profit taking."
"Right now there will be profit taking. It's basic business," he said.
Tom Kloza, editor and publisher of OPIS, said complaints like the ones Delbene is making have some merit.
At the same time, Kloza said suppliers and retailers in some markets tend to adjust their prices lower faster than in other markets.
In New York, northern New Jersey, Connecticut and California, that lag time can be as long as 20 days.
"Bottom line is prices will drop and fast. Its just that in some markets, the lag time tends to be longer," he said. 

First Published: May 20, 2011: 12:15 PM ET