[ad_1]

Even with the year equity markets have given us already, there's still plenty of time for some last-minute additions to your portfolio to help see out 2020. Tech has by far and away been the headline grabber but after this summer's run, you'd be forgiven for being slow to buy into it now after so much hype. However, investors who are looking to add some fresh faces into their watchlist or portfolio aren't stuck for options. There are plenty of dark horses with a ton of upside potential in the coming months.
Boeing (NYSE:) is one such stock. The $100 billion aerospace giant's bounce off March's lows will remain a painfully remembered lesson by many on Wall Street. It's not often that one of the world's biggest industrial companies sees its shares lose 75% of their value in just five weeks. But that's what the coronavirus was able to do to Boeing. For those brave enough to snap shares up as they traded under $100 for the first time since 2013, there have been solid returns to be had. For those of us who missed out, it's starting to look like Boeing is ready to give us a second chance.
Solid Momentum
Shares have been consolidating in a fairly tight range of $150-$180, with some rare deviations, since June. Wall Street has had time to digest the new reality and seems to have found a fair price given all that's happened in recent months. In short, the coronavirus has not been kind to the airline industry. And as a major source of Boeing's income, any time the airlines sneeze Boeing is at risk of catching cold.
The good news however is that with each day that passes, we're closer to a vaccine being created and while we're getting there, all the signs point to the airline industry continuing to recover. Earlier this month US daily air passenger traffic topped 1 million for the first time since March which was a massive milestone. While it's still down about 50% on the same time last year, it's a psychologically important number which will go a long way to convincing any investors still on the sidelines that the recovery in airlines is well and truly on.
Good News All-Around
Around the same time, United Airlines (NASDAQ:) announced plans to introduce 8 new routes and more flights to existing destinations in the coming months. And only last week Southwest Airlines (NYSE:) announced that they're going to start filling the middle seat in their planes. These are seismic moves which speak to the airlines wanting to match passenger demand as much as anything else.
It's certainly a run of positive news for the airline industry and just what Boeing needs after being badly hurt by these same airlines canceling orders left, right, and center earlier this year. But the prevailing feeling is that the worst is now behind them and for investors, that means it's time to consider the long term potential.
Specifically to Boeing, last week Southwest announced plans to restructure their orderbook with them while American Airlines (NASDAQ:) has said they're preparing to begin flying 737 MAX planes by the end of the year. This comes as US aviation regulators are on the verge of recertifying the plane which has been a thorn in Boeing's side since being grounded in March 2019.
But for all this positive momentum, Boeing shares are pretty much flat on the month. As equity markets continue to cool from recent highs it's likely they're holding Boeing shares back too, which means for investors with an eye on the longer term, it could be an opportune moment to buy into Boeing's comeback story.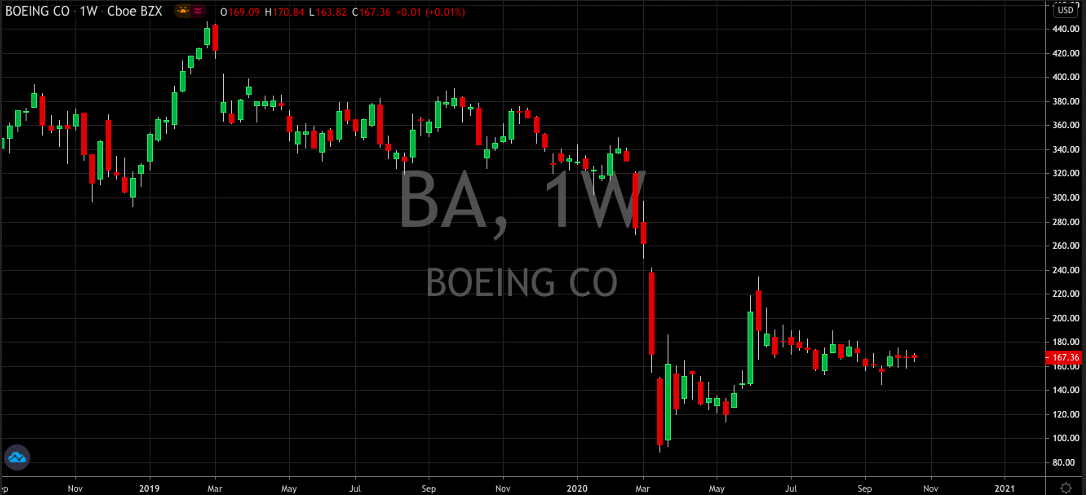 Original Post