In West Virginia's Second Congressional District in the U.S. House of Representatives, incumbent Republican Alex Mooney is facing Democratic challenger Cathy Kunkel. 
Cathy Kunkel (D)
Town of residence: Charleston
Education: Undergraduate and master's in physics (Princeton, Cambridge)
Occupation: Energy analyst
What prompted you to run for office?
I decided to run because West Virginians are hurting. Our healthcare system is broken, public education is underfunded, and we lack basic infrastructure. For too long, politicians in D.C. have been paying more attention to wealthy special interests than to ordinary West Virginians. Especially as our nation's economy transitions away from fossil fuels, we need leadership working to diversify our economy and bring in federal resources. We are owed a debt for the coal and gas that powered our nation for so long, while our wealth flowed out of state. We can make sure that workers and communities are not left behind as our economy changes. 
For the last decade, I have been working on behalf of West Virginians. I have testified to our Public Service Commission on behalf of consumer groups, defending West Virginia electricity customers against corporate bailouts for utility monopolies. I also co-founded Advocates for a Safe Water System after the 2014 Freedom Industries spill to fight for safe drinking water in the Kanawha Valley. I am not taking corporate money in my campaign because I want to go to D.C. and fight for an economy that works for all of us, not just a wealthy few.
What policies would you pursue to diversify West Virginia's economy?
In order to bring new businesses and expand on our existing strengths, we must improve our infrastructure. In particular, that means federal funding for broadband internet, as well as safe drinking water and sewer infrastructure. Without reliable internet, we are missing opportunities in healthcare, education, tourism and small business development. We also need to bring in billions of dollars for environmental reclamation work, including reclaiming old mines and abandoned gas wells. Passing the RECLAIM Act would unlock $1 billion in federal investment to put abandoned mine lands back to use. Infrastructure investment and environmental reclamation work will create jobs in communities that have been most impacted by the decline of fossil fuels, and I will support policies that require these to be union jobs that hire local workers.
We have potential to expand tourism, agriculture and clean energy manufacturing in West Virginia. In order to support local agriculture, for example, I support reforming federal agricultural subsidies to support small-scale, family growers rather than corporate agri-business. This could include expanding farm-to-school programs and expanding access to credit for new farmers. I will also support efforts to bring agricultural processing to West Virginia to keep more of our food dollars in West Virginia.
How would you rate the state and national response to the COVID-19 crisis? What would you do differently?
The federal government has done a poor job of responding to the public health crisis and the economic fallout. We know that the economy will not recover until the virus is under control and people feel safe resuming their usual habits. Millions of Americans face food insecurity and have difficulty paying rent, and the trends have been worsening with the expiration of benefits in July. The federal government should not have set an arbitrary deadline for economic relief benefits to expire, and future relief packages should be tied to a date when the virus is brought under control or a vaccine has been widely distributed. I support monthly economic relief checks until the pandemic is brought under control.
Going forward, we need to better fund our public health infrastructure. The Center for Disease Control's budget has been cut by 10% over the last decade, leading to budget cuts and staffing shortages at the state and local level as well. I support restoring CDC funding and filling staffing vacancies so that our country can invest more in disease prevention and emergency preparedness, an investment which pays huge dividends in avoided healthcare costs.
What is the most fundamental change that needs to be made in West Virginia for a more successful future?
The most fundamental change we need is to reform our campaign finance system and stop electing politicians who are beholden to corporate interests. We have failed to make progress on so many urgent challenges -– including guaranteeing affordable healthcare for all, bringing down the cost of prescription drugs, supporting our small farmers, and addressing the climate crisis -– because of wealthy interests who fund political campaigns of both parties and then literally write the rules to continue to benefit themselves and their corporate profits, at our expense.
Alex X. Mooney (R-incumbent)
Town of residence: Charles Town
Education: Dartmouth College
What prompted you to run for reelection?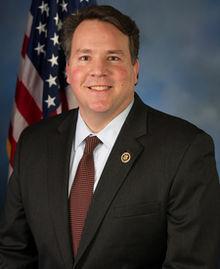 I'm running for reelection to preserve our West Virginia values and way of life. This includes protecting unborn babies, preserving our Second Amendment rights and rebuilding our economy. I will continue to vote to lower taxes, reduce government regulations and to provide affordable healthcare. I am also focused on combatting the opioid epidemic here in West Virginia and nationwide.
I am proud to work with President Trump to Make America Great Again. I love our Mountain state, and I love our country. I've fought for West Virginia in Congress for almost six years now, and I can honestly say that I could not be more proud of our dedicated and patriotic Mountaineers. I'd be honored to have your vote again so I can continue to create West Virginia jobs, grow our economy and defend our God-given freedoms.
What policies have you/would you pursue to diversify West Virginia's economy?
I'm focused on improving West Virginia's infrastructure. I'm proud to have helped secure funds to build, expand and improve Corridor H, and I'm continuing to fight for these funds in Congress. This highway will bring business and commercial development into the Mountain State. I've been a strong supporter of the Yeager Airport in Charleston, which will help grow and diversify our economy. Recently, I was able to provide more funding for the Lens Creek sewer line extension project to move into construction phase. This will help grow our economy and create jobs by laying the foundation for business development and investment.
I was proud to pass the Tax Cuts and Jobs Act with President Trump. Under this legislation, Opportunity Zones were created in low income communities to incentivize businesses to grow and prosper. I recently sent a letter to President Trump urging him to relocate federal agencies to Opportunity Zones in the Mountain State, including in Charleston. With our proximity to Washington D.C. and Dulles International Airport, our robust tourism industry and hardworking residents, this is an ideal location for a number of government agencies.
How would you rate the state and national response to the COVID-19 crisis? What would you do differently?
The coronavirus outbreak was an unprecedented moment in America, and the federal response was very good. Through the public-private partnership, President Trump led a united response not seen since WWII. In the future, we should have medical supplies stockpiled in America and be better prepared to produce medicines in America.
I voted to pass the CARES Act, which provided relief to small businesses as well as funds for increased research, treatment and testing. The Paycheck Protection Program issued over 18,000 loans to small businesses in West Virginia to keep employees on payroll. Many of my constituents have contacted me to say "thank you" for keeping their small businesses viable during this difficult time.
As a member of the U.S. House Committee on Financial Services, I've been focused on our strong economic recovery and being a watchdog for rural community banks.
Reducing burdensome regulations on businesses and getting Americans back to work is key to bringing back our strong economy.
What is the most fundamental change that needs to be made in West Virginia for a more successful future?
We need to work to ensure all West Virginians have access to broadband services. Not only is this important for our small businesses, but it's also critical for an expanding telehealth industry. With many students taking courses online due to COVID-19, reliable internet services are essential to continued education. Widespread internet access will incentivize commercial development and investment. This will create jobs in areas that today do not have the broadband services required for business growth.
In Congress, I'm working to expand broadband internet access. That's why I'm proud to cosponsor the Broadband Data Improvement Act, which would improve the quality of broadband data in West Virginia. I also wrote a letter to the Federal Communications Commission (FCC) Chairman requesting that the FCC and the Universal Service Fund continue to work to deliver improved broadband to rural communities. I've helped secure millions of dollars in grants from federal agencies, such as the Department of Agriculture and the Appalachian Regional Commission, to expand broadband in West Virginia. There is more work to do to improve access to broadband services here in our great Mountain State, and I will continue to pursue this important work should I win your vote this November.