09:43
Europe's winter lockdown has created a surge in takeaway orders, as people were again barred from visiting the pubs and restaurants.
Takeaway group Just Eat Takeaway.com reported strong sales over the last quarter, notable in the UK where delivery orders were nearly five times higher than in 2019.
My colleague Joanna Partridge explains:



Locked-down consumers across Europe ordered 57% more takeaways from the continent's biggest delivery group in the final three months of 2020 than a year earlier.

The huge leap in trade reported by Just Eat Takeaway.com was a further acceleration in growth from the 46% jump in the third quarter, as surging coronavirus cases resulted in countries across Europe reintroducing strict restrictions, keeping people at home.

In the UK, delivery orders surged by almost 400% in the fourth quarter of 2020 compared with the same period of 2019, as many consumers were once again asked by the government to stay at home.
Shares in the group have dropped by 4.5% this morning, though, as Just Eat is pledging to "invest heavily and prioritise market share over adjusted EBITDA" (ie, profits).
09:29
ASOS eyes £15m hit from Brexit tariffs
ASOS has also flagged up that it expects to incur "Brexit tariff costs" of around £15m this financial year, associated with country of origin rules.
Under the UK-EU free trade deal, products will attract tariffs if more than a certain percentage of their value is neither of British nor EU origin.
Updated

09:01
ASOS's UK sales surge during lockdown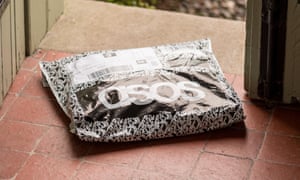 Online fashion chain ASOS has raised its profit guidance after posting strong sales during the pandemic.
UK sales surged by 36% over the last four months of 2020, as ASOS benefitted from the lockdown which forced high street rivals to shut non-essential retail stores.
ASOS says its "exceptional UK growth reflected strength of market position as well as restrictions on non-essential retail stores through the peak period".
Total retail sales worldwide grew 23% including 18% in the EU and 13% in the US.
ASOS now expects profits to hit the top end of current market expectations (which currently range from £115m to £170m)
But CEO Nick Beighton also flags up that the pandemic is still creating economic uncertainty:



Looking forward, given the uncertainty associated with the virus and the impact on customers' lives, our cautious outlook for the second half of the year remains unchanged.

However, the strength of our performance gives us confidence in our continued progress towards capturing the global opportunity ahead."
Updated

08:44
Pink prosecco helps Lidl post record Christmas sales
A flurry of UK companies are reporting Christmas trading figures this morning.
Discount supermarket Lidl is toasting a "record" festive period. Total sales surged 17.9% in the four weeks to December 27, with the average basket up almost 25%.
Popular items included pink prosecco – with one million bottles sold, along with traditional favourites such as panettone and mince pies.
Lidl's deluxe range also proved popular, with customers treating themselves to higher-end food and drink (goodness knows they deserve it, after 2020).
Christian Hartnagel, chief executive of Lidl GB, said:



"Despite this Christmas being a difficult time for many across the country, we are pleased to have been able to help our customers enjoy themselves by offering high quality food at the lowest prices on the market."
Lidl is also continuing its store expansion plans, and aiming for 1,000 UK stores by 2023.
08:28
Shares in oil giants BP (+1.5%) and Royal Dutch Shell (+1%) have risen in early trading, following the rally in the oil price.
This has helped to lift the FTSE 100 by around 10 points or 0.15%, to 6764 (up 4.7% so far this year).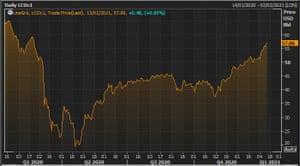 08:16
China car sales rise again in December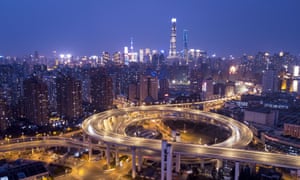 China's car sector has continued to recover from the shock of the Covid-19 pandemic.
Auto sales jumped by 6.4% in December, compared to a year earlier, the China Association of Automobile Manufacturers (CAAM) reported, with 2.83 million sold during the month.
That's the 9th month of gains in a row, as sales picked up from the lockdowns earlier last year.
CAAM also reported that sales for 2020 as a whole were 1.9% lower than in 2019, with 25.31m new vehicles sold.
Sales of 'new energy' vehicles rose around 11% last year; Reuters has more details:



The data showed passenger vehicle sales fell 6% for the full year of 2020.

The sales of commercial vehicles, which constitute around a quarter of the overall market, surged 19% thanks to government investment in infrastructure and as buyers upgraded to comply with tougher emissions rules.

Sales of new energy vehicles (NEVs), including battery-powered electric vehicles, plug-in petrol-electric hybrids and hydrogen fuel-cell vehicles, increased 11% in 2020 to 1.37 million units.
07:41
Introduction: Brent crude jumps over $57
Good morning, and welcome to our rolling coverage of the world economy, the financial markets, the eurozone and business.
Oil is continuing its new year rally, with prices hitting their highest level since last February as the reflation trade gathers pace.
Brent crude, the benchmark, has jumped by another 1% overnight, back over the $57 per barrel mark, amid expectations for a pick-up in demand this year as (hopefully) the global economy emerges from the pandemic.
This latest surge comes after the American Petroleum Institute reported that US stockpiles dropped more sharply than expected last week, down 5.8 million barrels.
A notably upbeat assessment of economic prospects from China's president Xi Jinping is also bolstering optimism, says Avtar Sandu, senior manager commodities at Phillip Futures.



"Crude oil prices also continued to rally … on economic optimism in China after President's Xi comments and an inventory report from API showed that crude oil inventories fell more than expected."
Today's rally also follows reports that Saudi Arabia has cut supplies to some refiners, as it delivers on its pledge to rein in production.
Bloomberg has the details:



Saudi Arabia slashed crude oil supplies to at least nine refiners in Asia and Europe after the kingdom volunteered to cut its production by 1 million barrels a day for February and March.

Aramco will supply less crude as part of long-term contracts next month, giving some Asian processors as much as 20%-30% less than they had sought, according to company officials who received the notices but asked not to be identified as the information is private. A European refiner that typically buys small volumes from Saudi Arabia will not get any cargoes for February.
Oil isn't the only commodity rising, though.
Corn prices surged yesterday, as traders continue to anticipate a massive new US stimulus programme once the Democrats have taken control of the White House.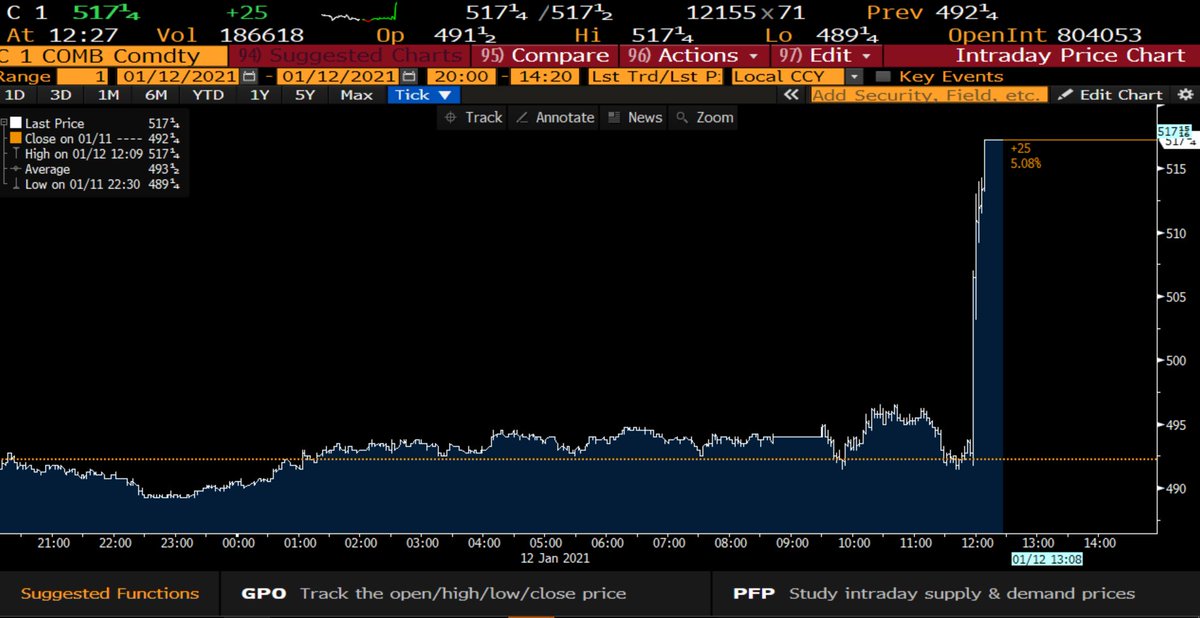 The agenda
10am GMT: Eurozone industrial production for November
1.30pm GMT: US inflation data for December
3.30pm GMT: US weekly oil inventory figures
Updated