[ad_1]

Good morning. Covid-19 angst hits market sentiment, Boris Johnson faces a revolt over local lockdowns and Amy Coney Barrett is confirmed. Here's what's moving markets.
Angst
The S&P 500 fell the most in a month on Monday as prospects dimmed for fiscal aid before the presidential election. The U.S.'s bad day followed a drop for Europe's Stoxx 600 benchmark driven by an outlook cut and subsequent stock plunge from heavyweight German software group SAP. Angst about Covid-19 infection rates appears to have come back to the fore for markets and declining business and consumer confidence is likely to put further pressure on the European Central Bank to signal more support is coming. European and U.S. stock-futures are marginally higher heading into Tuesday as the earnings agenda gets busier again.
Revolt
U.K. Prime Minister Boris Johnson is facing a revolt from more than 50 member of his own party who are demanding a clear route out of lockdown for northern parts of the country which handed him a resounding election victory last year. Elsewhere in Europe, and echoing the incremental steps taken in the U.K., the specter of new national lockdowns is rearing its head as governments run out of options on how to stem Covid-19's spread. News on the treatment front won't help the mood. A paused trial in the U.S. of Eli Lilly's antibody therapy won't resume and a report in the U.K. found that antibody responses to the virus may diminish over time, so the natural defenses in those previously exposed to the virus are likely to wane.
Confirmed
Amy Coney Barrett was confirmed for the U.S. Supreme Court on Monday night, handing a significant victory to President Donald Trump and the Republicans by solidifying a conservative majority on the court with just over a week left before the election. On the campaign trail, Democratic presidential candidate Joe Biden is picking up the pace, though his relatively light schedule contrasts sharply with President Donald Trump's frenetic traveling and rallies. Biden's campaign appears similar to the tactic used by his predecessor Hillary Clinton, but this time the map is looking more like the 2008 vote than 2016. Trump's campaign continues to be overshadowed by the Covid-19 crisis amid rising cases across the country and after another outbreak in the White House.
Crude
Concerns about the impact of rising Covid-19 infections and a lack of a stimulus deal in the U.S. combined to drag oil prices lower at the start of the week and the outlook for crude is once again getting much more complex. In addition to those two worries, Libya announced plans to restart the last of its major oil fields, creating another headache for OPEC+ in its bid to prop up crude prices. And, on top of all that, Tropical Storm Zeta is set to hit the Gulf of Mexico. Crude prices edged higher on Tuesday, but the outlook remains distinctly bearish.
Coming Up…
Europe's earnings season gets busier again on Tuesday. Lender HSBC topped estimates and said it is considering paying a dividend again, sending its Hong Kong-traded shares higher. Banco Santander's net income and outlook also comfortably beat expectations. Swiss drugmaker Novartis and oil major BP round-out the large-caps reporting. The economic calendar remains relatively quiet, with French inflation and Spanish unemployment data coming. And Brexit-watchers will be awaiting any signals from the ongoing talks this week, following a report that the U.K.'s key software to ensure the flow of goods won't be ready in time.
What We've Been Reading
This is what's caught our eye over the past 24 hours. 
And finally, here's what Cormac Mullen is interested in this morning
If the EU's mammoth stimulus agreement was a historic signal that Europe was coming together, in the stock market at least it is drifting apart again. The performance gap between stocks with the greatest sales exposure to core Europe — say Germany, Austria, France — and those more active in the periphery — Italy, Spain and Portugal — has just hit the widest since early 2019. A Goldman Sachs basket of the core-exposed stocks has rallied over 36% from the March lows, but its periphery-exposed equivalent is up a more modest 21%, according to data compiled by Bloomberg. The divergence comes ahead of a raft of GDP data this week that will unveil the true extent of the region's economic recovery. The expectation for Germany — chief among core countries — is that it will continue to outperform its European peers, having experienced a shallower dip and faster recovery. But with winter approaching and coronavirus outbreaks intensifying in core and periphery alike, investor focus will be on which countries can successfully manage the pandemic from here, before it swings the recovery into reverse.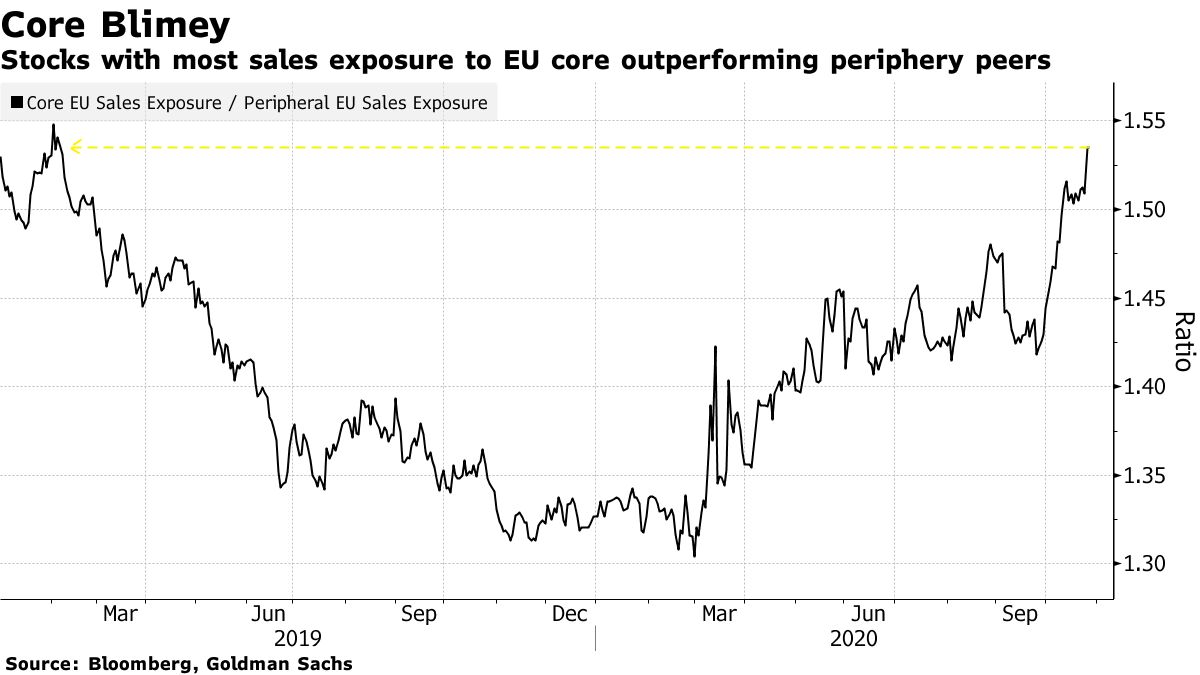 Cormac Mullen is a cross-asset reporter and editor for Bloomberg News in Tokyo.
Like Bloomberg's Five Things? Subscribe for unlimited access to trusted, data-based journalism in 120 countries around the world and gain expert analysis from exclusive daily newsletters, The Bloomberg Open and The Bloomberg Close.