[ad_1]

Want the lowdown on what's moving European markets in your inbox every morning? Sign up here.
Good morning. Europe is going into lockdown again, the European Central Bank's decision is coming up and stock futures are pointing higher after a brutal selloff. Here's what's moving markets.
Locked Down Again
France is going back into lockdown for the next month as President Emmanuel Marcon clamps down on movement in order to get control of the rapidly-spreading virus. Germany is also putting in place its toughest virus restrictions since the spring — closing bars, restaurants and other venues — highlighting the weakness in its contact-tracing system. France's shutdown will start on Friday, while Germany's restrictions will take effect on Monday. In the U.K., Prime Minister Boris Johnson faces being forced to enact a new national lockdown, something his government has strenuously sought to avoid, as projections put the country on track for a winter peak in the pandemic that could be worse than the first wave.
ECB Day
The new lockdowns could raise the chance of the European Central Bank announcing preemptive stimulus measures at its meeting on Thursday. Most economists and investors still think the ECB will wait until December to take action, but they are being put on guard for a surprise. The Bank of Japan cut its growth forecast for the year and said it sees a more volatile path ahead. That came after the Bank of Canada reinforced its commitment to keeping interest rates at historical lows at its meeting on Wednesday, continuing the supportive tone of major central banks. G-20 finance ministers and central bankers are also set to hold a meeting in November to discuss more actions to help poorer nations on debt relief.
Campaign Claims
The record-setting virus infection rates in the U.S. are coming at the worst possible time for President Donald Trump, with spiking infection rates and rising hospitalizations in some battleground states potentially deterring some Republican voters from turning out to vote next week. Trump is also stirring up his rallies by tarring Joe Biden with a slew of views, including on taxes and health insurance, that his opponent does not hold. At some rallies, Trump has called Biden a puppet of socialists, while other times saying he's controlled by Wall Street donors. Elsewhere, there are concerns about election mail being delayed. And, the U.S. is sowing turmoil over the choice of the World Trade Organization's next chief.
Rout
The market selloff picked up steam on Wednesday, with the Stoxx 600 Europe index closing at the lowest since May and the S&P 500 having its worst day since June. Stock-futures in Europe and the U.S. are pointing to something of a recovery on Thursday, following declines for Asian equities, but the threat from rising Covid-19 infections appears to have overshadowed all else for anxious investors, including the U.S. election. The VIX, Wall Street's so-called fear gauge of volatility, hit the highest level since mid-June, concerns about a tech bubble are looking prescient and the pain may just be starting if the corporate bond market is anything to go by.
Coming Up…
It's another very busy day in the third-quarter earnings season. In Europe, the biggest companies set to report include oil major Royal Dutch Shell, brewer Anheuser-Busch InBev, carmaker Volkswagen AG and plane manufacturer Airbus, among plenty of others. That'll be followed by a blockbuster day in the U.S., with Apple, Amazon.com and Facebook all set to report. Euro-area confidence data and U.S. GDP top the economic calendar. And Brexit will remain firmly in view, with reports of progress being made toward a deal between the U.K. and European Union as the talks move back to Brussels.
What We've Been Reading
This is what's caught our eye over the past 24 hours. 
And finally, here's what Cormac Mullen is interested in this morning
After flagging gold as the dog that didn't bark yesterday, there was silence in a number of kennels yesterday despite U.S. stocks seeing their biggest drop since June and European shares slumping the most since September. Treasuries were little changed, the yen barely budged and gold actually fell, all suggesting a lack of haven buying at the risk-off move. The number of strategists that pointed to heavy program selling on the U.S. open hinted that the move was technically driven rather than anything more sinister, at least for now. Still, the stock selloff does show the fragile state the market is in as the pandemic worsens and the election is almost upon us. Currency traders in particular are bracing for imminent price swings with one-week implied volatility in both the euro and the yen breaching 10% — the highest since April — with the election now just days away. The volatility we had been warned about is upon us.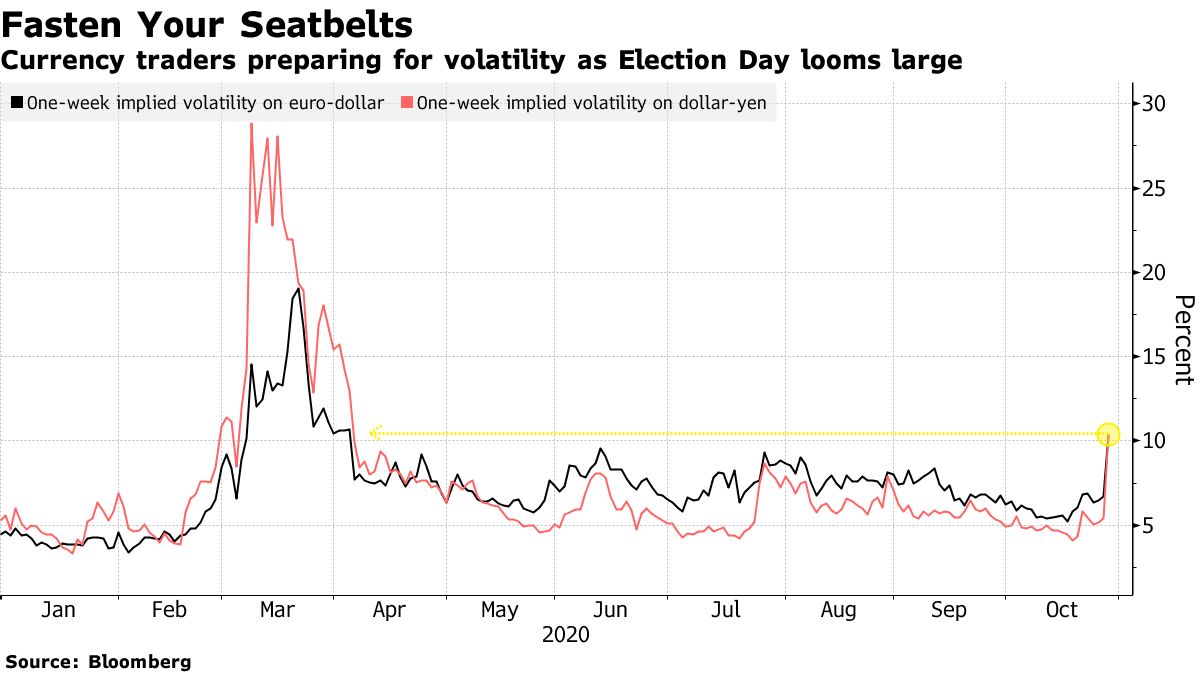 Cormac Mullen is a cross-asset reporter and editor for Bloomberg News in Tokyo.
Like Bloomberg's Five Things? Subscribe for unlimited access to trusted, data-based journalism in 120 countries around the world and gain expert analysis from exclusive daily newsletters, The Bloomberg Open and The Bloomberg Close.