Canister vacuums, with powerful motors, long hoses and wands and a wide range of accessories can clean your whole house with better suction and filtration than a stick vacuum and more flexibility than an upright.
We tested nine canister vacuums, from $60 to over $1,000, on everything from deep carpet to scraped hardwood to cat trees, to find the vacuums that best balanced cleaning power, maneuverability, filtration, and price.
Best canister vacuum overall
The Miele Classic C1 Turbo Team is powerful, maneuverable, and built to last. Its six suction speeds and great tool loadout make it great, even pleasant to use, for hard floors, low carpets and rugs, upholstery, and dusting.
Best canister vacuum for pet hair and thick carpet
Folks with deep-pile carpet or pets that shed will be well-served by the Kenmore BC4026. It's bulky and inelegant, but its powered floorhead outperforms vacuums twice its price and the motorized pet hair brush keeps upholstery looking fresh.
An upgrade canister vacuum that does it all
The Miele C3 Kona is the best vacuum we tested, with great filtration and excellent cleaning on hard floors and thick carpet alike. It has the best traits of the Kenmore and Miele Classic C1, but costs more than both put together.
Best budget canister vacuum
A punchy mini canister with surprisingly long reach. The Eureka Mighty Mite cleans hard floors well, can be upgraded with a HEPA filter, and is easy to use and maintain. It's perfect for small spaces.
Nathan Edwards/CNN Underscored
The Miele Classic C1 Turbo Team Powerline canister vacuum
The Miele Classic C1 Turbo Team Powerline is a lightweight, maneuverable six-speed canister vacuum that's downright pleasant to use. Its suction-powered turbo brush is good for dislodging hair and dust out of low-pile carpets and rugs, the parquet floor head glides over hardwood, and the dusting tool has a nifty 90-degree pivot that makes baseboards and overhead fixtures a cinch. People with deep-pile carpets should get a vacuum with an electric floor brush, but for everyone else, the Classic C1 Turbo Team hits a sweet spot between portability, versatility, build quality, and price.
Key specs

Bagged canister
Turbobrush floor head
Parquet brush
Pivoting dusting tool
Six suction speeds
Swiveling caster wheels
One-year warranty
The Classic C1's 13-pound canister is a full ten pounds lighter than the high-end Miele Complete C3, and weighs nine pounds less than the Kenmore Pet-Friendly Pop-N-Go, so it's easier to use on stairs, or for any task that involves carrying the canister. It also moves easily when you pull it behind you; the three swiveling caster wheels let the C1 turn in place and avoid getting stuck on obstacles.
The Turbo Team Powerline model we tested is named for its TurboTeQ floor head. The single-height head has a suction-powered rotating brush that hovers 1.5mm from the floor. It's effective at grabbing hair and debris from hard floors and low-pile carpet, though it gets overwhelmed by deep-pile carpet. The 11-inch-wide floor head is fairly maneuverable, and at 3.25 inches tall it can fit under some taller furniture. Because the brush is suction-powered, not electric, there's no way to stop it from turning (on purpose); Miele warns that it shouldn't be used on delicate carpets or uneven flooring.
Because the C1's handle and telescoping metal wand don't have to support a powered floor brush, they're lighter those used on canisters that do use powered accessories, and the handle's grip is integrated into the suction tube rather than being offset, so it's less tiring to use for non-floor cleaning.
The 90-degree pivot in Miele's dusting brush makes it much easier to dust baseboards without stooping, or light fixtures without contorting your arm. It's such a simple quality-of-life improvement that we wish more vacuum companies would copy it.
The Classic C1 has six labelled suction settings, from drapes to hard floors, controlled by a dial on the canister. The canister also has a bag-change indicator, power button, and auto-retract button for its 18-foot power cord. There's no onboard tool storage, which keeps the canister's size down. Instead, the crevice tool, dust brush, and upholstery tool live on a clip at the base of the hose.
The multi-layer, 4.5-liter GN Airclean 3D filterbags have an auto-close flap to keep dust from puffing out when you replace the bag. The bags aren't HEPA-rated, though Miele says that combined with the motor protection filter and exhaust filter, they stop "99.9% of fine dust particles."
Miele sells a four-pack of bags with a pre-motor filter and an exhaust filter for $20-24. Both filters should be replaced yearly. The flimsy exhaust filter that comes with the Classic C1 isn't HEPA-rated; most people should plan to replace it with Miele's compatible HEPA exhaust filter. Altogether, you can plan to spend around $25 per year on bags, plus $30-50 for the HEPA filter.
All Classic C1 canister vacuums come with Miele's one-year comprehensive warranty, and Miele has a network of authorized service centers and a reputation for building vacuums that last.
The Turbo Team isn't the only model of the Classic C1, but it's the right one for most people. The Pure Suction Powerline ($299.99) swaps the suction-powered floor roller for a two-position combination floorhead, but doesn't come with a parquet floor head. If you're sure you don't want the TurboTeQ head, you can save about $25 by getting the Pure Suction and buying the excellent Parquet Twister brush separately.
Miele also makes a $699.99 Cat & Dog version of the Classic C1, which comes with an electric floorbrush, a suction-powered mini turbo brush for getting pet hair out of upholstery, and an activated-charcoal exhaust filter. It's the cheapest way to get a Miele that can handle deep-pile carpet, but its price puts it in an awkward position. The Classic C1 Cat & Dog is more than twice the price of the Kenmore Pet-Friendly Pop-N-Go, our pick for carpet, and the electrobrush requires a heavier handle and wand that negates the Turbo Team's advantage for non-floor cleaning. And if you're willing to spend that much on a vacuum cleaner, it's worth considering the Complete C3 Kona, which has a three-year warranty, onboard tool storage, and a longer hose and tube.
Best canister vacuum for pet hair and thick carpet: Kenmore 600-Series BC4026 Pet Friendly Pop-N-Go ($319.99, Target)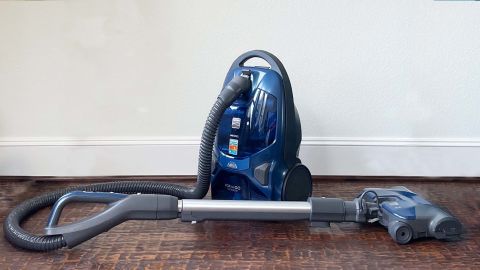 Nathan Edwards/CNN Underscored
The Kenmore 600-Series BC4026 Pet Friendly Pop-N-Go canister vacuum
The Kenmore 600-Series BC4026 Pet-Friendly Pop-N-Go is a classic American muscle car. It's powerful, bulky, and at its best when moving in a straight line. The wide, four-height electric floor head pulls dust and debris from deep inside deep-pile carpet, and the canister's dust bags (6 for $23) and exhaust filter ($11-20) are both HEPA-compliant. At $320, it's less than half the price of the cheapest Miele with an electrobrush, so it's an easy choice for people with lots of carpet, especially those with dust or dander sensitivities.
Key specs

Bagged canister
Powered, motorized floor head
Powered, motorized mini roller brush
HEPA filter
One-year warranty
The BC4026's 14-inch-wide floor head pulled a frankly distressing amount of vintage dust out of the nine-year-old deep-pile test carpet. At its lowest height and highest suction, it also cleaned hard floors well. Unlike most vacuums we tested, twisting the handle doesn't change the floor head's direction at all; you have to physically reposition yourself to turn it.
Of all the vacuums we tested, the Kenmore BC4026 was the most effective against pet hair, thanks to its motorized Pet Powermate tool. Its electric mini roller brush rotates independently of suction, and both the roller bar toggle and suction slider are on the handle, so they're easy to adjust on the fly. With the electric brush and low suction, the Kenmore easily removed cat hair from microfiber sofas, pet beds, and a carpeted cat tree. Miele's suction-powered mini turbo brush, by contrast, tended to inhale loose fabric, stopping the brush. The Pet-Friendy's crevice tool, unlike Miele's, has little suction-relief cutouts at the top, so it was able to get into the seams of a dog bed without getting stuck on the fabric.
Compared to the Miele vacuums we tested, the 22-pound 600-Series canister is downright ungainly. Its two large rear wheels don't turn as easily as the casters on the Mieles, and they're constantly running over its 28-foot cord. The crushproof hose wants to twist on itself, and the floor head and heavy telescoping wand want to topple over whenever they can. And the otherwise-great HEPA filtration system is somewhat undermined by the dustbags, which have no cover flap and can puff dust into the room when you change them, unless you're very careful. (Kenmore's exhaust filter also doesn't seem to seal in place as tightly as the one on the Miele C3.)
On the bright side, the large canister unit has plenty of storage space: the mini pet hair tool, crevice tool, and dust brush live in one compartment, and the hard floor tool is stored in a separate pop-up compartment. Unfortunately, the button to open that compartment is exactly where most canister vacuums have their power switches, so it pops open more often than required.
The rectangular hard floor brush itself is a tad undersized, at just nine inches wide. It neither glides as smoothly nor turns as easily as Miele's parquet floor brushes, or Dyson's optional one, but it's better than the even dinkier and less maneuverable one on the Kenmore 200-series BC4002 we tested.
Kenmore sells several canister vacuum models that are nearly identical to the BC4026. The Kenmore 81615 is purple and has a slightly longer hose. More expensive models add a floorbrush headlight, slightly better steering, and "Ultra Plush" airflow cutouts for even thicker carpet. Less expensive models, like the 200-series we tested, omit the Pet Powermate and handle controls, among other things, so we'd recommend stepping up at least to the BC4026.
The Kenmore 600-Series BC4026 carries a one-year warranty.
Nathan Edwards/CNN Underscored
The Miele Complete C3 Kona canister vacuum
There is a way to combine the excellent hard floor performance, maneuverability, and accessories of the Miele Classic C1 Turbo Team with the filtration, deep carpet cleaning, onboard storage, and reach of the Kenmore Pet-Friendly Pop-N-Go. Unfortunately, it involves spending a thousand dollars. If you have the cash, though, the Miele Complete C3 Kona is as close to a no-compromises, buy-it-for-life canister vacuum as you'll find.
Key specs

Bagged canister
Powered, motorized floor head
HEPA filter
Six suction speeds
Swiveling caster wheels
Three-year warranty
Like Kenmore's powered floor head, Miele's SEB 228 electrobrush works almost upsettingly well on deep-pile carpet. Miele's has five height adjustments rather than four, and unlike Kenmore's, the head can turn when you rotate the vacuum's handle. Alas, at 4.5 inches tall, it's unlikely to fit under most furniture.
At 23 pounds, the Miele Complete C3 canister is a pound heavier than the Kenmore's, and a full ten pounds heavier than the Classic C1. But thanks to its three swiveling casters, it's as nimble as the smaller Miele. It's less pleasant to use on stairs, or haul around by the handle, and the electrobrush necessitates a heavier wand and more substantial handle than the Complete C1 Turbo Team's, so it's also less comfortable for dusting baseboards and light fixtures. But that's a tradeoff you'll make for any vacuum with an electric floor head.
Like the C1, it has six suction speeds, though it uses +/- switches instead of a dial. Its pivoting dusting brush, crevice tool, and upholstery brush are the same as the C1's, though they're stored in a compartment in the canister rather than on a clip. The C3's 24-foot power cord is six feet longer than the C1's, though four feet short of the Kenmore Pet-Friendly.
The C3 Kona comes with Miele's 13-inch-wide Parquet Twister hard floor brush, which glides over hard floors and turns even more easily than the parquet brush attachment of the C1.
The Complete C3 is Miele's top-end canister, and it comes with a three-year warranty instead of one. It uses the same 4.5-liter GN AirClean 3D bags as the Classic C1; unlike the C1, it comes with a HEPA exhaust filter.
Like Miele's other canister lines, the Complete C3 comes in many versions. Pet owners should consider the Cat & Dog version, which for $100 more swaps the HEPA filter for one with an odor-eating activated charcoal layer and includes Miele's suction-powered STB 101 mini turbo brush, which we tested separately (it's available on its own as an accessory). The STB 101 does a decent job at removing pet hair from upholstery but in our experience was more prone to choking on loose fabric than Kenmore's powered pet hair brush. The Cat & Dog is otherwise identical to the Kona except for color.
Nathan Edwards/CNN Underscored
The Eureka Mighty Mite canister vacuum
If you can't spend a thousand dollars, or even a hundred, there's still the Eureka Mighty Mite, a nine-pound, single-speed bagged canister vacuum that's true to its name. You won't find a telescoping metal wand, carpet brush, auto-retracting cord, or fancy pet hair tool, but the Mighty Mite does offer a lot for the price.
Key specs

Bagged canister
Single speed
Seven-foot hose/wand reach
Small size, light weight
One-year warranty
The Mighty Mite's two-position floor head doesn't glide as easily as the horsehair parquet brushes that come with the Miele and Kenmore, and its wheels squeak. But it cleans well on hard floors and low carpet, so it's a good choice for small apartments and dorm rooms, where the short 20-foot cord will be less of a drawback anyway.
The Mighty Mite has surprising reach. Its hose and handle are nearly seven feet long combined, and with both 18-inch tube segments installed, we could comfortably dust the crown molding in a room with ten-foot ceilings with the canister resting on the ground.
Aside from the power switch, the Mighty Mite's only control is a plastic suction-control ring on the handle. The power cord doesn't auto-retract, though there's cord storage beneath the canister. The crevice tool slots into the handle, while the combination dusting brush and flat suction tool stows in the back of the canister. Neither is outstanding, but at least they're there.
The Mighty Mite's bag doesn't meet HEPA standards (though you can buy third-party bags that claim to), and its only filter is a thin, washable foam pre-exhaust filter, though you can add a HEPA filter to the back of the canister.
The Mighty Mite comes with a one-year warranty. Just about every part of the vacuum is available online, so if it breaks after that, you've got a good shot at fixing it.
Why and how to choose a canister vacuum

Cordless stick vacuums are versatile and maneuverable, but limited by their batteries. Corded upright vacuums are great for floors, especially carpet, but they can be difficult to fit into tight spaces, crevices, or dusting and can be awkward to use on stairs or with upholstery tools and other accessories. A canister vacuum is more powerful than either, and with a lengthy hose and wide selection of accessories can cover the broadest range of vacuuming needs.
For a large home, the power and easy handling make a canister a good choice. And if you have a lot of above-the-floor cleaning tasks such as drapes or upholstery, or a lot of stairs to deal with, a canister makes more sense than an upright vacuum.
There are some downsides, of course, since you can't optimize for everything. Canisters — especially the inexpensive models — can be loud, and they are clunky and unwieldy compared to modern cordless stick vacuums. Their form factor makes them somewhat challenging to store, compared to stick vacuums that can be hung on the wall or uprights that can stand on their own in a closet. And while they are powerful enough to tackle most messes, you might find it inconvenient to take out your canister vacuum just to handle spilled flour in the kitchen.
That said, a canister vacuum is powerful and versatile enough to clean your whole home, from floors to baseboards, light fixtures to stairs, upholstery and drapes — even your car — without necessarily having to augment with a second vacuum or worry about battery life. And it makes a great vacuum for weekly chores even if you use a stick vacuum (or even a robot vacuum) to handle daily upkeep.
Nathan Edwards/CNN Underscored
During testing, we collected enough cat hair to assemble several more cats. One of our research assistants investigates
We tested nine highly-rated canister vacuums, from a $60 Bissell to a $1,000 Miele, over nearly two months of real-world use. How real? Try thick carpet, hardwood, loads of cat hair, and three young children who love Cheerios.
Cleaning Performance
Hard Floors: We used each vacuum's main floor head, as well as any hard-floor or parquet tool, on 1,800 square feet of scraped hardwood and 1,100 square feet of ceramic tile, as well as a flight of wooden stairs. We tested how smoothly they moved across the floor, how easily they fit under furniture and into corners, and how effectively they captured fine dust, hair, breakfast cereal, assorted larger debris, and the daily mess of three small children.
Carpet: Suction alone isn't going to get your carpets clean. A suction-powered beater bar will help get hair and debris from near the surface, while an electric beater bar can help dislodge deeper dust in deep pile, but can damage delicate carpets and rugs. We tested each vacuum on flat-woven rugs, low- and medium-pile carpet tiles and area rugs, and the real challenge: 1,200 square feet of nine-year-old, deep-pile plush carpet.
Baseboards, crevices, and dusting: Almost all canister vacuums include a crevice tool and a dusting brush. The design of each tool, as well as the weight and design of the vacuum's handle and wand, can have a huge impact on how easy and comfortable it is to clean along baseboards, into corners and crevices, and under furniture.
Upholstery and drapes: More suction isn't always better. A canister vacuum should have a low-suction setting and a flat, broad tool that can pull dust from hanging drapes and upholstered furniture without inhaling the fabric. The handle should be comfortable to use overhead or at an angle. Crevice tools with air holes or cutouts let you vacuum between couch cushions without sucking up the fabric.
Pet hair: After the above testing, we took the finalists to a house with three long-haired cats (and frequent overnight visits from two dogs), and thoroughly cleaned two microfiber sofas, two armchairs, an ottoman, a collection of plush rugs, a three-story cat tree, and eight pet beds. Altogether, we extracted enough hair to create several new cats.
Canister Design
Bagged versus bagless canister: Bagged vacuum cleaners generally have better filtration, hold more dust, and are easier to empty without releasing a bunch of dust back into your house. But bagless canisters make it easier to see how much crud you've picked up (and identify things that need to be fished out), and don't require the ongoing cost of new bags.
Size and weight: Canisters spend most of their time on the ground, but you will need to pick them up occasionally, whether to vacuum stairs, dust something above head height, or just to retrieve and stow the vacuum.
Maneuverability: A canister vacuum should be easy to pull behind you as you vacuum. It should turn easily, be able to rotate in place as you move around the room, and it shouldn't topple, get caught on corners, or get tangled in its own cord.
Suction Speed: Many vacuums have adjustable suction levels: higher for hard floors, lower for upholstery and drapes. How many motor speed options are there? Are they clearly labelled? Are the controls on the canister?
Noise: All canister vacuums are loud, but some are louder than others. We noted the approximate decibel level, as well as the general tone of each vacuum on hardwood, carpet, while vacuuming a sofa cushion, and when dusting baseboards.
Filtration: Without good filtration, a vacuum cleaner is just a dust redistributor. The better the filtration, the fewer allergens escape back into your home. Bagged vacuums often have HEPA-rated bags, replaceable exhaust filters, or both. Bagless canisters usually have permanent, washable filters, some with HEPA ratings. Vacuums for pet owners sometimes have charcoal filters to absorb odors.
Stowage: Canister vacuums are unwieldy. Good ones will have a slot on the canister where the hose and main floor head can attach when not in use, so the wand doesn't topple over.
Tool storage: The vacuum should have storage for the crevice tool, dusting brush, and other tools. Large canisters often have onboard storage compartments; smaller ones tend to have clips on the hose or extension tube.
Handle, Wand, Hose, and Tools
Main floor head: We examined the default floor heads for each vacuum. How big are they? How smoothly do they move across different surfaces? Do they turn? Do they have height adjustments? If they have a roller bar, is it powered by the vacuum's suction, or is it electric? Can the roller bar be turned off?
Handle: A light handle is more maneuverable and more comfortable to use for dusting, crevices, upholstery and drapes, but powered brush heads require heavy-duty wands and sturdy handles.
Hose and wand: Does the wand extend and retract smoothly and easily? What are the minimum and maximum lengths? How heavy is it? How easy is it to change tools?
Suction control: Is there a way to adjust the suction from the handle? If so, is it a hole with a sliding cover, or does it control the suction motor speed? How easy is it to use?
Reach: The longer the power cord and the longer the hose, the greater the area you can vacuum without changing power outlets. A longer hose and wand let you vacuum above your head (for drapes, walls, light fixtures, and fans) without having to hold the canister in your other hand.
Other tools: What other tools come with the vacuum? How well do they work? Are there any surprising features, or notable omissions?
Usability and ease of maintenance and upkeep
Container capacity and ease of emptying: How much dust can the vacuum hold before it needs to be emptied? For bagged vacuums, is there a bag-change indicator? Are the bags easy to seal when removed? For canister vacuums, does the canister come out easily? Does it open easily? Does it release a cloud of dust into the air when emptied?
Power cord: How long is the power cord? Does it have an auto-retract function?
Ongoing costs: How much do bags and filters cost? How often do they need to be replaced? Are they easy to find?
Extras: Are replacement tools extra accessories easy to get? Are they reasonably priced? Are there decent third-party alternatives?
Warranty and Service: How long is the manufacturer's warranty? What does it cover? How easy is it to get the vacuum repaired? Is it easy to find spare parts?
Dyson Big Ball Multifloor ($399.99, dyson.com)
The Big Ball canister vacuum has a striking "that's a Dyson!" design, a washable HEPA filter, and a lightweight, comfortable handle with long reach. It's compatible with a dizzying array of accessories. It has a five-year warranty (with free shipping both ways), and a robust selection of replacement parts. But it doesn't excel at anything, and has an accumulation of small annoyances that mean most people are better served with either the Kenmore Pet-Friendly Pop-n-Go (for thick carpet) or the Miele Classic C1 Turbo Team (for everything else).
The Big Ball canister has a self-righting design, which is cool, because the canister toppled frequently in our testing. The non-powered turbine head didn't vacuum deep-pile carpet well, nor glide as smoothly over hard floors as Miele's parquet floor heads (Dyson's articulating hard floor tool ($50) is good, but is sold separately). Unlike the Miele and Kenmore, the Dyson only has two suction settings, and the only way to access the lower one is to keep squeezing a trigger in the handle, which gets tiring. The long crevice tool with retractable dusting brush is great for hard-to-reach spaces, and makes quick work of baseboards, but at over a foot long, is awkward for cleaning fixtures or anything that requires changing angles. The accessory clip on the Big Ball's handle only holds two tools.
The canister-emptying mechanism is awkward, given the size of the dust compartment. In one instance, the dust compartment opened as we were removing it from the canister, dumping its contents onto the canister and requiring the use of another vacuum to clean up.
Finally, we were disappointed that, although it looks like the Big Ball's accessories ought to be interchangeable with those from Dyson's V-series stick vacuums, they're different diameters. Otherwise, the Big Ball might have been a compelling option for people who already own a Dyson stick vacuum but want to augment it with something that won't run out of batteries.
Miele Blizzard CX1 PureSuction Powerline ($575, amazon.com)
Miele's Blizzard CX1 combines most of the great traits of Miele's bagged canister vacuums — great build quality, excellent maneuverability, best-in-class accessories, and strong suction — with the lower upkeep costs of a bagless vacuum. If you really hate bags, it's a great choice, but the dusting and upholstery tools aren't as good as those on the C1 Turbo Team or C3 we tested, the bagless system makes for messier emptying and the filter requires 24-hours of downtime every time you wash it.
Like Miele's C1 and C3 lines, there's a CX1 for every need, from the PureSuction we tested, which comes with a two-height floor head with no beater bar, to the CX1 TurboTeam, which comes with the same suction-powered TurboTeQ floor head as the Classic C1 TurboTeam, but costs $200 more. The Pure Suction and Turbo Team models come with a retractable dusting tool built into the handle, which is less versatile than the swiveling dusting head of the C1 Turbo Team or C3, and the upholstery brush is smaller than those of the bagged models, with rubber lint grabbers instead of fabric.The CX1 Cat & Dog, on the other hand, includes the same excellent electrobrush, swiveling dusting tool, and mini turbo brush as the C3 Cat & Dog, but costs hundreds less.
The CX1's HEPA filter is washable, but it has to be dried for 24 hours after you do so, which is inconvenient should you have to deal with a mess the next day. That said, families with pets or dust sensitivities should consider bagged vacuums, which can be fitted with either HEPA or odor-catching carbon exhaust filters; bags also add an extra level of filtration and cut down on mess when emptying.
Kenmore 200-series BC4002 Bagged Canister Vacuum ($249.99, walmart.com)
Like the larger, more expensive Pet-Friendly Pop-N-Go, the Kenmore 200-series BC4002 is bulky, not very maneuverable, and fantastic at pulling dust out of deep-pile carpet. Their powered floor heads are nearly identical. But the 200-series lacks onboard storage for its crevice and dusting tool, its hard floor head is dinky and unpleasant to use, its cord and hose are shorter, and it doesn't come with the powered mini turbo brush or an upholstery/stair tool. Most people should spend a bit more and get the Pet-Friendly Pop-N-Go.
Eureka Whirlwind Bagless Canister Vacuum ($72.99, amazon.com)
Like the Eureka Mighty Mite, the Whirlwind is a loud, inexpensive vacuum that does an okay job on bare floors and very-low-pile commercial carpet. It has a few more creature comforts than the Mighty Mite, including a telescoping metal wand, auto-retracting cord, dusting tool integrated into the handle, and an easier-to-use suction slider. It's a little quieter than the Mighty Mite, at least on the floor. But the bagless canister's handle is integrated into the dust compartment, and picking it up breaks the seal between the motor and canister, causing a high-pitched squeal, and the short hose and power cable mean you'll have to reposition it often unless your space is very small.
Bissell Zing Bagless ($61, amazon.com)
The Bissell Zing Bagless is a cross between the Eureka Whirlwind and Mighty Mite. It has a bagless canister that looks like the Whirlwind's, with a (short) retractable power cord and a curved plastic handle with a suction-control slider. But instead of a telescoping metal tube it has two plastic tube extensions, like the Mighty Mite, and though it comes with a small crevice tool and dusting brush, there's nowhere to put them.
The Zing's two-position floor head is a bit narrower than the ones used on the Eureka vacuums we tested, but its tilt hinge has a limited range of motion, and tends to stick at the top of it: lowering the handle to get under furniture brings the front of the floor head off of the ground, and raising the handle above 34 inches from the ground lifts the rear of the floor head. Anyone above average height will have to stoop to use it.
Read more from CNN Underscored's hands-on testing